Temperatures 1.1 degrees Celsius above pre-industrial era

Report released with opening of UN climate talks in Bonn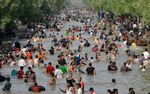 This year is on track to be one of the three warmest years ever.
The average global temperature from January to September was about 1.1 degrees Celsius (2 degrees Fahrenheit) above the baseline before the Industrial Revolution, the World Meteorological Organization said Monday in a statement. The record was probably in 2016, with 2017 and 2015 being second or third, it said.
The findings released to coincide with the opening of United Nations climate talks in Bonn are meant to put pressure on policy makers to work harder on limiting greenhouse gases that are damaging the atmosphere. Since 2000, the number of people exposed to heatwaves has increased by 125 million, WMO said.
"The past three years have all been in the top three years in terms of temperature records," WMO Secretary-General Petteri Taalas said in the statement. "We have witnessed extraordinary weather, including temperatures topping 50 degrees Celsius in Asia, record-breaking hurricanes in rapid succession in the Caribbean and Atlantic reaching as far as Ireland, devastating monsoon flooding affecting millions of people and relentless drought in East Africa."
The WMO also said in the report:
The northwestern U.S. and western Canada were cooler than the 1981-2010 average so far this year
The El Nino weather phenomenon lifted temperatures in 2016 and the year before
South America, western China and southeast Asia have been wetter than normal
There was less sea ice in the Arctic than normal, including a record-low in the first four months of the year
Sea surface temperatures are on track to be among the three highest levels on record
Carbon dioxide in the atmosphere measured 403.3 parts per million last year, up 3.3 parts per million from 2015. Figures for this year won't be available until late 2018
Before it's here, it's on the Bloomberg Terminal.
LEARN MORE