Taylor Swift Draws ACLU Scorn Over Threat to Sue Blogger
By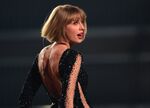 Taylor Swift's lawyer got schooled by the American Civil Liberties Union.
The attorney sent a letter threatening to sue a blogger who'd criticized the singer for not being more outspokenly critical of white supremacists purportedly co-opting her music. On Monday, the ACLU wrote to the lawyer, saying his demand that PopFront and the blogger retract and remove the post is an attempt to suppress their constitutionally protected speech. The allegedly false statements aren't defamation "in your wildest dreams," according to the ACLU.
"As your client knows all too well, celebrity is a double-edged sword," the ACLU said. "It also may bring close scrutiny that can lead to adverse as well as favorable comment."
Before it's here, it's on the Bloomberg Terminal.
LEARN MORE