The Secret Brexit Studies Saga: Will They Ever Be Released?
By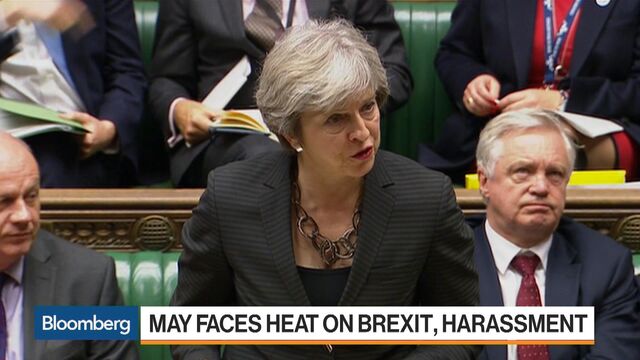 The U.K. government is coming under pressure to release 58 secret papers that detail the economic impact of Brexit. The man leading the divorce talks with the European Union has set out some of the reasons why he doesn't think it's such a good idea.
In a letter to the parliamentary committee dealing with Brexit published Monday, David Davis offered to meet its chairman -- Hilary Benn -- on Nov. 13 to discuss the matter further and clarified that the research in question is a "range of documents developed at different times since the referendum."
"It is not, nor has it ever been, a series of discrete impact assessments examining the quantitative impact of Brexit on these sectors," the Brexit secretary wrote. "It is important that this is understood from the start."
Davis was also at pains to say that "there are a number of reasons why we believe that it would not be in the public interest for elements of the analysis, at least, to find their way into the public domain."
He went further: "In some cases there may be confidential or commercially sensitive information in this analysis and that in many cases this analysis has been developed to underpin advice to ministers of the negotiation options in various scenarios."
In other words, the findings could compromise Britain's talks with its counterpart at a particularly tricky time in the process -- but Parliament is determined to get its hands on them.
House of Commons Speaker John Bercow was unimpressed by the letter and demanded that Davis should produce the studies by the end of Tuesday or tell lawmakers why he had failed to do so.
"The motion passed on Wednesday obliges ministers to provide the Exiting the European Union Committee with the impact assessments," Bercow said. "That should be done very promptly indeed. Failing that, I expect ministers to explain to the House before we rise tomorrow evening why they have not provided them and when they propose to do so."
— With assistance by Thomas Penny
Before it's here, it's on the Bloomberg Terminal.
LEARN MORE