Rolet's Exit From LSE Gets Complicated as Hohn Seeks U-Turn
By , , and
Hohn's TCI Fund Management also urges Chairman Brydon to quit

Hedge fund believes Rolet, 57, being ousted against his will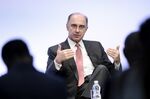 When London Stock Exchange Group Plc announced last month that Chief Executive Officer Xavier Rolet would leave at the end of 2018, Chairman Donald Brydon celebrated his "remarkable achievements" and thanked him for staying in the role until a successor is found.
What looked like an orderly transfer of power is now threatening to throw the company into turmoil, after hedge-fund manager Christopher Hohn on Friday stunned investors by contending the LSE was forcing the 57-year-old Rolet to leave. Hohn, whose TCI Fund Management Ltd. holds more than 5 percent in the exchange, said Brydon, 72, should quit instead.

"It is clear to us that he has been forced by the board to leave against his wishes," Hohn wrote in a letter to the LSE board that he also sent to other stockholders. "Your decision will result in significant value destruction for shareholders."
The dust-up strikes after an eight-year push by Rolet to revamp the centuries-old institution, which culminated in his -- ultimately unsuccessful -- plan to sell it to its German rival. While Brexit gave Rolet, a former French Air Force officer, a critical role in protecting the City of London, the company's dominant role in clearing became politically charged after the vote.
"It feels like there's something going on that neither you or I understand," said Steve Grob, director of group strategy at Fidessa Group Plc. "The bit that's less clear is why Xavier would have someone go out there and say, 'Stay on."'
The stockholder unrest comes as bourses are competing to lure what could be the largest initial public offering in history. On Saturday, U.S. President Donald Trump personally lobbied Saudi King Salman to list Saudi Arabian Oil Co., known as Aramco, on the New York Stock Exchange. The share sale, which may value the company at $2 trillion, will generate a cascade of fees for the winning exchanges.
Off-Road Racer
The LSE, in a statement dated Nov. 3, said it followed proper procedures to name a new CEO. "Xavier Rolet will be providing input into the process to identify his successor and is focused on his role as CEO until his successor is appointed," the board said.
Ramesh Chhabra, a spokesman for the LSE, declined to comment beyond the statement.
The French-born Rolet, who took part in the Lisbon-Dakar Rally in 2007, recognized that the LSE had to do more than be neutral ground where buyers and sellers could trade stocks. It also had to become a data hub and clearing house that could bring information and transparency to a global marketplace that keeps getting faster and never closes.
To that end, he overhauled the LSE's technology, invested in tapping potential breakthroughs like blockchain database software, and executed a raft of deals to square off against Asian and American rivals. Rolet built the world's top index business, FTSE Russell, by acquiring assets from Citigroup Inc., Frank Russell Co., and other players. In the process, the executive became the public face for the exchange.
'Remarkable Achievements'
LSE's shares fell 0.2 percent in London trading on Monday. The stock has gained 29 percent this year, and has surged more than fivefold since the CEO took over in 2009.
"There will be many opportunities ahead to celebrate Xavier's remarkable achievements," Brydon said in the Oct. 19 statement announcing Rolet's departure. He didn't provide a reason why the CEO was leaving.
Rolet couldn't pull off his biggest deal -- the sale of the LSE to its German counterpart, Deutsche Boerse AG. The 9.8 billion-pound transaction, which would have created a European heavyweight in the intensifying contest between global exchanges, collapsed in March amid fallout from Brexit and regulatory resistance.
Deutsche Boerse is also looking for a new CEO after Carsten Kengeter resigned last month. Prosecutors are probing insider-trading allegations relating to his purchases of the German company's shares in December 2015, before it was disclosed that the exchange was seeking to take over the LSE.
In his letter, Hohn urged the board to extend Rolet's contract to 2021 and praised the CEO for creating "enormous value through transformative acquisitions and excellent operational management." He threatened to call a shareholders' meeting to vote on the removal of Brydon as chairman, unless the company reverses its decision to let Rolet go "in the near future."
— With assistance by Nick Baker
Before it's here, it's on the Bloomberg Terminal.
LEARN MORE