Qualcomm's Antitrust Baggage Expected to Weigh On Broadcom Review
By and
Chipmaker has been target of antitrust regulators globally

Technology-licensing practices may complicate review of deal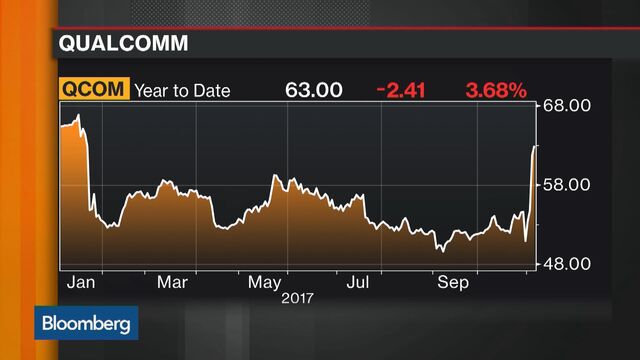 Broadcom Ltd.'s $105 billion takeover bid for Qualcomm Inc. will have to overcome regulatory scrutiny across the globe over the chipmakers' supply of key components for smartphones, a review likely to be made tougher by Qualcomm's history of run-ins with antitrust enforcers.
Qualcomm, mired in a legal dispute with Apple Inc. and a frequent target for regulators worldwide over its technology-licensing practices, is planning to tell shareholders that lengthy and uncertain governmental reviews of the deal may cast doubt on the value of the plan, people familiar with the deal said. Broadcom and Qualcomm each have already had to push back deadlines for existing takeover agreements with smaller chipmakers as officials take closer looks.
"If this combination of these two major tech giants goes ahead, it will certainly be given a good hard look by antitrust regulators in Brussels and around the world," said Dave Anderson, a lawyer at Berwin Leighton Paisner LLP in Brussels.
Broadcom's bid for Qualcomm, the largest provider of mobile-phone chips, would reshape the semiconductor industry by making Broadcom the third-biggest chipmaker in the world, behind Intel Corp. and Samsung Electronics Co. The combined business would instantly become the default provider of a set of components needed to build each of the more than a billion smartphones sold every year.
Biggest Hurdle
The biggest hurdle to winning regulatory approval for the deal is Qualcomm's reputation for "aggressive licensing practices," analysts at United First Partners said in a note.
The San Diego-based company is fighting a lawsuit brought by the U.S. Federal Trade Commission earlier this year that accuses Qualcomm of abusing its dominant market position to impose anticompetitive supply and licensing terms on cell-phone manufacturers. The company has been fined by antitrust authorities in Taiwan, South Korea and China, and it faces an EU antitrust probe over payments to Apple.
The deal would combine two chipmakers that each have global semiconductor market share of about 4.6 percent, according to researcher IDC. But the regulatory review will hinge on discrete product lines where the companies compete. Qualcomm and Broadcom overlap in Wi-Fi and Bluetooth technology for wireless devices, UFP said.
The deal would probably be reviewed in the U.S. by the FTC, which shares antitrust jurisdiction with the Justice Department, given the agency's reviews of previous chip deals, said Bloomberg Intelligence analyst Jennifer Rie. The FTC's allegations against Qualcomm will likely make for a tougher review of a Broadcom deal, Rie said.
"They are not going to be predisposed to giving them the benefit of the doubt in the process," she said.
Oval Office
Broadcom's bid for Qualcomm was made public days after Broadcom Chief Executive Officer Hock Tan joined President Donald Trump in the Oval Office to announce that Broadcom would return its headquarters to the U.S. from Singapore. The move may help with Broadcom's $5.9 billion agreement to buy Brocade Communications Systems Inc. That deal, announced last November, has been delayed at least three times by the Committee on Foreign Investment in the U.S., a panel that reviews the security risks of foreign acquisitions of American companies.
To win antitrust approval for the Qualcomm deal, Broadcom may seek to divest less important parts of its business, such as chips for Wi-Fi, to appease antitrust regulators, said Anand Srinivasan, an analyst for Bloomberg Intelligence. MediaTek is a likely buyer, he said. If Qualcomm completes its pending takeover of NXP Semiconductors NV, which is mired in an antitrust review in the EU, another sale candidate could be NXP's Secure ID segment, possibly to Infineon Technologies AG or STMicroelectronics NV.
An acquisition of Qualcomm and NXP would double Broadcom's exposure to the wireless market and key customers Apple and Samsung, Cowen & Co. analyst Karl Ackerman said in a note Monday. Apple's fight with Qualcomm might prompt it to complain about and jeopardize a deal, much as customer complaints led to the collapse of Lam Research Corp.'s deal for KLA-Tencor Corp. and Applied Materials Inc.'s agreement to buy Tokyo Electron Ltd., Ackerman added.
Broadcom's Tan said he's confident the deal will pass muster with customers and regulators alike.
"We believe there's nothing we can't work through here," Tan said in an interview. "We would not undertake this if we were not highly confident that our common key customers would embrace it."
EU Scrutiny
A review by European regulators may go much wider into how the combined firm plans to position itself ahead of a potential gold mine as connected chips are added to all sorts of devices to create the so-called Internet of things. The takeover bid also comes as the EU takes a deeper plunge into the logic of deals, often extracting heavy concessions from businesses.
The EU has been increasingly looking at how big mergers affect innovation and whether there will be many other developers of cutting-edge technology products. Its concerns over how DuPont Co.'s planned merger with Dow Chemical Co. could hold back innovation for new agricultural chemicals ultimately saw DuPont sacrifice most of its global research and development unit to win antitrust approval.
"The commission will take an expansive view and see if you consolidate further in an industry, whether the big players will be able to create these kind of high-end chips," said Ioannis Kokkoris, a law and economics professor at Queen Mary University in London. The EU "will need to clarify how far in the future it will be looking and how predictive it wants to be with these kind of technologies," he said.
Regulators often ask whether companies "are trying to buy the element they are missing or trying to pre-empt a competitor from creating a first-mover advantage," Kokkoris said. "It all boils down to what is strategy behind the deal and whether they convince officials that it's not a pre-emptive strike, but more an efficiency-generated drive."
Broadcom, for its part, "does not anticipate any material antitrust or other regulatory issues that would extend the normal timetable for closing a transaction of this nature," the company told Qualcomm Monday in an open letter. The company said it expects to complete the deal 12 months after signing a definitive agreement with Qualcomm.
— With assistance by Joshua Fineman, and Ian King
Quotes from this Article
Before it's here, it's on the Bloomberg Terminal.
LEARN MORE