Qatar Air Turns East After U.S. Snub With Surprise Cathay Stake
By and
Near 10% holding in Hong Kong operator to cost $662 million

Gulf carrier had been spurned by American and isolated locally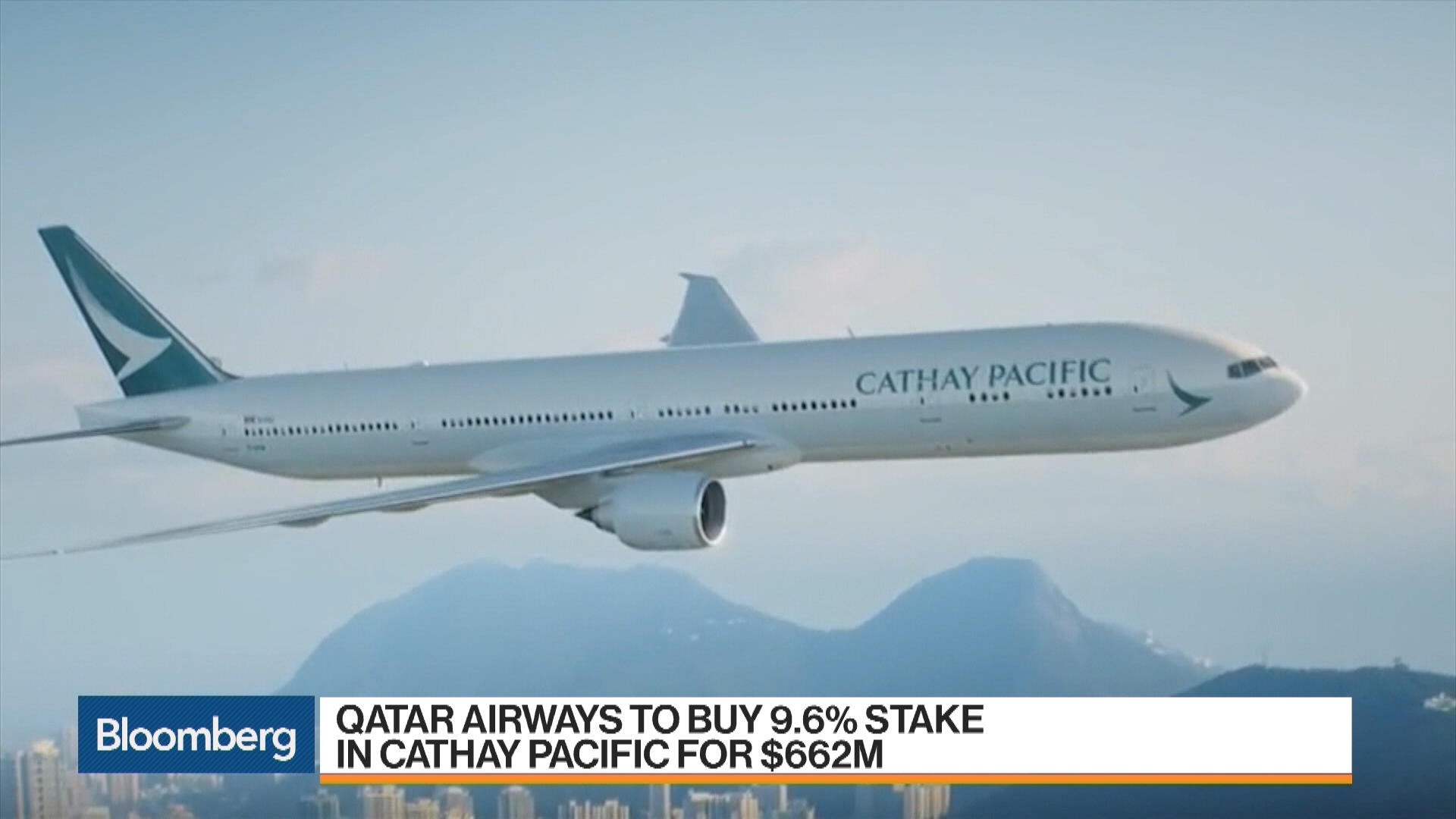 Qatar Airways Ltd., spurned by American Airlines Group and isolated in the Persian Gulf, snapped up 9.6 percent of Hong Kong-based Cathay Pacific Airways Ltd. in a surprise move that extends a policy of investing in major global carriers and provides a first foothold in East Asia.
Qatar Airways will purchase the stake for HK$5.16 billion ($662 million) from Kingboard Chemical Holdings Ltd. and associates, according to a statement, becoming Cathay's third-largest investor after local conglomerate Swire Pacific Ltd. with a 45 percent holding and Air China Ltd. with almost 30 percent.
The Cathay swoop is in line with a strategy of blue-chip deals that have seen Qatar Air buy 20 percent of British Airways owner IAG SA and 10 percent of No. 1 South American carrier Latam Airlines Group SA. At the same time the move reasserts the company's global ambitions 4 1/2 months after American Airlines rejected an investment bid. It also comes amid a Saudi Arabia-led blockade of Qatar that has led some flights to be scrapped and forced others to divert.
Akbar Al Baker, Qatar Air's chief executive officer, said the tieup advances his investment strategy by securing a stake in "one of the strongest airlines in the world," while Cathay counterpart Rupert Hogg added that he's looking forward to a "continued constructive relationship" with the Gulf operator.
Both companies are members of the Oneworld alliance, as are British Airways, Latam and American, though that didn't stop the U.S. carrier's CEO Doug Parker from opposing the planned Qatari investment in his group. Parker had previously criticized the rapid expansion of Mideast carriers and their global hubs amid claims that they've had $50 billion in illegal state aid.

Under the terms of the Cathay deal, Qatar will buy about 378.2 million shares at HK$13.65 apiece, a 3.4 percent premium over Friday's close. Kingboard, which makes laminates and copper foil and had been seen as a possible front for a takeover of Cathay, according to Bocom International analyst Geoffrey Cheng, said its investment has yielded a profit of about HK$800 million.
Qatar Air's minority holdings have so far been relatively passive, with the carrier declining to seek boardroom seats at IAG. At the same time it has established a joint business with the U.K. company involving a combined timetable as well as revenue and cost sharing on London-Doha services, and has developed a similar arrangement with Latam.
Al Baker is also planning to establish a division in India that could operate as many as 100 single-aisle planes as Qatar seeks to tap into the world's fastest growing major aviation market.
Behind the Cathay Pacific stake is the battle for better access to China, which is expected to become the world's biggest aviation market within a decade. U.S. carrier Delta Air Lines Inc. bought a minority stake in China Eastern Airlines Corp. in 2015, while American purchased a minority stake in China Southern Airlines Co. this year.
At the same time, Cathay, while still Asia's biggest international airline, has struggled to make the most of its Chinese status, finding itself squeezed by mainland carriers that boast a lower cost base and increasingly offer direct U.S. and European flights, cutting out the need for people to go via Hong Kong.
Earnings have also been under pressure as the big three Mideast carriers including Qatar Air grab a bigger share of premium inter-continental routes, pushing Cathay to its worst six-month loss in at least 20 years in the first half and spawning a transformation program featuring thousands of job cuts.
Complicating matters is the stake already held by Air China, long regarded by investors as a possible purchaser for the whole of Cathay. Shares of the Hong Kong carrier, which has denied that speculation, suffered a 4.9 percent intraday drop, the most since May 6, on news of the Qatar stake.

"Cathay will have three major shareholders, all with different and potentially conflicting interests," said Corrine Png, CEO of Crucial Perspective, a specialist in Asian transportation equities. "We still think it makes more economic sense for Cathay and Air China to merge longer term."
Zhou Feng, board secretary at Air China, said having an airline as Cathay's stakeholder, rather than Kingboard Chemical, would "bring about better synergy." Regarding the relationship between Qatar, Cathay and Air China, Zhou said there is both competition and cooperation and it will depend on how the carriers maintain the balance.
— With assistance by Dong Lyu, and Prudence Ho
Before it's here, it's on the Bloomberg Terminal.
LEARN MORE