Nordea Mega Branches Face More Oversight Across Scandinavia
By
Danish regulator seeks new significant-plus status for branch

Nordea changes bond terms to allow for senior non-preferred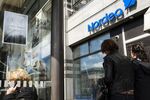 Nordic regulators are looking for ways to get more control over parts of Nordea Bank AB that are currently beyond their reach.
After the region's only global systemically important bank converted its subsidiaries into branches this year, supervisors outside the country where it's domiciled lost their regulatory clout. Now, they may have found a way to regain some powers.
Denmark's Financial Supervisory Authority wants so-called significant-plus status for Nordea's Danish operations, it said in an emailed response to questions. It's a designation recently created by the European Banking Authority as part of a set of guidelines intended to give host countries more say on supervision. National regulators may also try to get more power over giant bank branches via adjustments to Europe's Capital Requirements Directive.
"The current legal framework is not designed to handle the development that we see from the institutions, where large foreign subsidiaries are turned into branches," Kristian Vie Madsen, deputy director for banks at the Copenhagen-based FSA, told Bloomberg.
Nordea is based in Sweden, but is moving its headquarters to Finland next year to be inside the European banking union and under the single supervisory mechanism of the European Central Bank. The decision, which carries greater supervisory implications given the bank's branch structure, has angered authorities in Sweden, where regulations are stricter than in the rest of Europe.
Erik Thedeen, the head of the FSA in Stockholm, said last month his starting point in negotiations with the ECB will be that "the safety net that Nordea has today should be the same" in Sweden.
Nordea is leaving Sweden after a run-in with the government over a plan for higher bank resolution fees. The bank said moving to Helsinki would ensure a more predictable regulatory framework.
Nordea notified bondholders on Tuesday of changes to terms as a result of the HQ move, including plans to look into issuing senior non-preferred notes to meet new requirements for bail-in-able debt. Credit ratings won't be affected, Moody's Investors Service and Fitch Ratings said in notes.

"We do not expect non-performance risk to increase following the re-domiciliation as we believe it is unlikely the bank will be subject to higher capital requirements or operate with a materially lower capital buffer," Fitch said.
Nordic supervisors say the entire saga highlights the need to revisit the responsibilities for home and host countries set out in the Capital Markets Directive, which is now under its fifth revision. Emil Steffensen, deputy director of the Norwegian FSA, said last month that while the new EBA guidelines were positive, "changes in legal framework would serve to underpin the importance of reciprocity for host countries with systemically important branches."
Madsen of the Danish FSA said the directive constrains host authorities' participation in what's called the SREP, or the supervisory review and evaluation process.
"However, the Danish FSA would be open minded toward a review of the CRD/CRR on this particular topic," he said.
Before it's here, it's on the Bloomberg Terminal.
LEARN MORE