Nestle Union Warns Catalan Boycott Could Harm Jobs in Spain
By
Calls to shun Catalan products such as cava spread on Twitter

Nescafe, Nestle's Viladrau bottled water appear on lists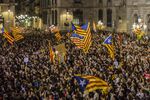 A Spanish union representing Nestle SA workers is pushing back against calls for a boycott of Catalan products, saying that punishing a major employer in the region with separatist ambitions could backfire on the country's economy.
The UGT union, which represents employees in sectors ranging from food processing to mining, said on its website that it opposes any move to shun Nestle products such as Nescafe and Viladrau bottled water. Nestle is one of Catalonia's biggest private employers, with 4 of its 10 Spanish production sites based in the region, as well as its country headquarters.
"We are calling for common sense and the end to any boycott or move that obstructs the normal sale of Nestle products," the UGT said. "Behind the brand, there are thousands of jobs that shouldn't be put at risk and which support many families across all of Spain." 
Calls to shun emblematic Catalan brands have often erupted elsewhere in Spain whenever separatist sentiment simmered up in the northeastern region. They've spread anew via Twitter and Facebook amid ousted Catalan leader Carles Puigdemont's attempt to secede.
Typically Catalan products such as cava -- a type of sparkling wine -- face the brunt of the boycotts, but this time Nestle has been drawn in. The Swiss company employs more than 4,930 people across Spain, where it got more than 2 billion euros ($2.3 billion) of revenue in 2016, according to Nestle's local website.
In addition to those direct jobs, Nestle helps give work to thousands of Spaniards indirectly through its purchases of goods and services, the UGT said. Other multinationals that have faced calls for boycotts include Danone SA, which bottles Font Vella water near Girona. The UGT has spoken up in defense of the French yogurt maker as well, condemning the boycotts.
Spokesmen for Nestle and Danone didn't immediately respond to emails seeking comment.
Before it's here, it's on the Bloomberg Terminal.
LEARN MORE