Mystery $750 Million Ore Sale May Unravel as Cutoff Passes
By and
Seller was supposed to pay West High Yield deposit by Nov. 4

Canadian penny stock had soared 1,000% on magnesium deal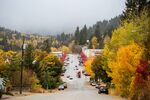 A Canadian penny stock that soared almost 1,000 percent after announcing a deal to sell a magnesium deposit for $750 million may be about to return to earth.
West High Yield (W.H.Y.) Resources Ltd., a Calgary-based miner that goes by the acronym WHY, said last month it sold the deposit in British Columbia for 46 times its market value in what would have been one of the biggest mining deals of the year. The equally obscure purchaser, Gryphon Enterprises LLC, had to pay $500,000 by Nov. 4 or WHY would have the right to terminate the deal. As of Friday, the sum hadn't been paid. WHY Chief Executive Officer Frank Marasco, Chief Financial Officer Dwayne Vinck and Gryphon CEO Stephen Cummins didn't respond to further inquiries over the weekend.
"There is substantial risk that the purchaser may not be able to obtain financing necessary to complete the proposed transaction," WHY had said Friday in a statement. "The purchaser does not have the financial resources" to complete the deal without third-party funding.
WHY's Oct. 5 surge was extraordinary -- even for Canada's TSX Venture Exchange dubbed the "wild west" by some for its volatile stocks. The explorer traded for just 36 cents before the cash deal was announced. Shares have been halted since Oct. 6 as the Alberta Securities Commission launched an inquiry. The company is co-operating with regulators and is in discussions about resuming trading in the stock, according to the statement.
More Questions

The statement raised fresh questions about a deal that ranks No. 4 by transaction value among the year's biggest mining-asset sales globally, according to data compiled by Bloomberg.
WHY and Gryphon haven't agreed on how liabilities will be settled if assets "fail to produce sufficient quantities and grade of materials in the time required'' to satisfy agreements, according to the statement. These so-called take or pay agreements must be negotiated for the deal to take place. WHY also revised the name of Gryphon's legal adviser after the original announcement erroneously identified the law firm of Baker McKenzie as representing the purchaser. The law firm said at the time it had no knowledge of the transaction.
If a motherlode of metal is to be extracted from an open-pit mine in a remote forest near the Washington state border, it comes as a surprise to the 3,500 residents of the closest town, Rossland, British Columbia. A neon pink plastic marker wrapped around the trunk of a fir tree and some felled logs are the only visible signs of the Record Ridge magnesium deposit behind the deal.

While plucky prospectors are no strangers to the region -- murmurs persist of undiscovered riches near the 19th-century gold-rush town better known today as a ski mecca -- the price tag dwarfed any other investment in recent memory.
"They came and met with a few of us at the city a couple of years ago and laid out their plans at the time -- it was all very speculative," says Kathy Moore, Rossland's mayor. "I don't know anymore than that."
Read More: In Bre-X Country, Junior Miners Crash or Post 1,000% Gains
By transaction value, the deal vies with those like Barrick Gold Corp.'s $960 million sale of half an Argentine mine, that churned out 544,000 ounces of gold last year. In contrast, WHY's project has yet to apply for development permits and may be years away from breaking ground, according to its filings and a technical report describing the environmental assessment process the project faces.
3,000 Years

The Canada unit of U.K.-registered SRK Consulting (Global) Ltd. audited WHY's exploration work in a 2013 technical study of the project, backing the theory that a deposit rich in magnesium lay underground. It confirmed in an email that it has been working with WHY since the spring of 2016 to collect data and complete the studies necessary to support the submission of an environmental assessment application.
Strip Malls
In an Oct. 5 phone interview, Marasco said he got the price he deserved for assets that hold about 3,000 years of supply of magnesium. The company retracted that claim Friday, saying the supply estimate "should not be relied upon."
Marasco's family company Big Mountain Development Corp. Ltd. and its unit control about 43 percent of WHY's shares, the bulk of which were acquired for only C$10 in 2006, according to WHY's initial public offering prospectus that year. News of the Gryphon sale drove their worth up to about C$40 million.

According to the purchase and sale agreement, Gryphon is based in Swanton, Maryland. The CEO, Cummins, uses an AOL email address and had a previous run in with the Colorado state regulator over allegations of selling securities without a license. Cummins, who in an Oct. 5 LinkedIn message said the sale is "absolutely a legitimate transaction," didn't respond to subsequent queries sent by email and LinkedIn.
Marasco built a career buying and selling motels, strip malls and nightclubs before he turned to mining, according to a company biography. As early as 2001, he was prospecting for gold near Rossland when he stumbled upon magnesium, subsequently spending at least C$12 million and drilling 77 holes over the next decade. By 2012, Marasco was telling a local newspaper, "The raw material is here. All we have to do now is mine and process it."
Nitric Acid
It may not be quite so straightforward.
Magnesium is so abundant that the U.S. Geological Survey describes potential recoverable resources as "virtually unlimited." For decades, Dow Chemical Co. extracted magnesium from seawater. The metal occurs naturally in the salt of the Dead Sea. Hundreds of millions of tons lurk in massive heaps of waste left behind by decades of asbestos mining in Quebec.
"There has to be something pretty special about a magnesium deposit to differentiate it from other deposits," says Alan Clark, managing director of CM Group, an Adelaide-based commodity researcher. That's because assessing a magnesium resource is very different from dealing with aluminum or copper or zinc. "It's much more about what technology solution you have to treat the resource that you've got, rather than how much raw material there is in any particular deposit."
Previous Flops
WHY announced test results in July that it said points to a simpler, cheaper way to process magnesium, using nitric acid, developed by Drinkard Metalox Inc. Charlotte, North Carolina-based Drinkard confirmed it has been working with WHY.
Never mind that such technological hurdles have doomed earlier efforts backed by deep-pocketed investors and government cash. In the early 2000s, Noranda Inc. in Quebec and Australian Magnesium Corp. were forced to shutter smelter projects, wiping out hundreds of millions of dollars invested -- spectacular busts that continue to cast a pall over the sector. 
"I can still walk into some investment banks here in Australia today, just utter the word magnesium, and I'll be frog-marched out of the building,'' says Clark.
Before it's here, it's on the Bloomberg Terminal.
LEARN MORE