Middle East Blunders by May's Top Ministers Put Her on the Spot
By
Johnson comments risk Iranian jail sentence for U.K. mother

Patel went behind prime minister's back to meet Netanyahu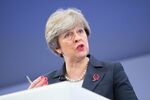 Theresa May's top diplomat is accused of risking a longer jail sentence for a British mother being held in Iran. Her minister for international development held a secret meeting with the Israeli leader.
It raised the question of whether it is yet another reflection of the British prime minister's weakness. "One is beginning to wonder what somebody would have to do to get the boot from the cabinet," said Tim Bale, professor of politics at Queen Mary, University of London.

Foreign Secretary Boris Johnson's blunder came before a Parliamentary Committee on Nov. 1 as he discussed the case of Nazanin Zaghari-Ratcliffe, a British-Iranian charity worker with the Thomson-Reuters foundation who was arrested in April 2016 as she left Iran, accused of plotting against the state. Zaghari-Ratcliffe has always insisted she had been on holiday with her baby daughter. Johnson though said "she was simply teaching people journalism as I understand it, at the very limit." 
According to the Thomson-Reuters Foundation, Zaghari-Ratcliffe was taken to court three days later and accused of "spreading propaganda." The group's CEO, Monique Villa, on Monday issued a statement blaming this on Johnson's comments. The Foreign Office replied that Johnson would call his Iranian counterpart to "ensure his remarks are not misrepresented."
Patel's Freelancing
If Johnson's remark was a gaffe of the sort for which he has become notorious -- albeit one with very serious consequences -- International Development Secretary Priti Patel's activities during her summer vacation in Israel were a direct challenge to May's authority.

On Monday, after the BBC reported that Patel had held unofficial meetings with government ministers during the trip, Patel issued a statement, revealing that her 13-day family vacation had included 12 engagements, including a visit to a hospital, a meeting with an opposition politicians, another one with the the public security minister and, to top it off some face time with Israeli Prime Minister Benjamin Netanyahu. 
Drained of all authority within her party by her disastrous general election gamble in June, and having lost her defense minister to a sex scandal last week, May is unable to discipline a minister for undermining her.
Ministerial Code
Patel wasn't accompanied by her own officials to any of the meetings, and May's office said they only learned of them last Friday, the day after the prime minister had herself held talks with Netanyahu in London. That is more than two months after they'd taken place, and after the BBC reported some of them.
The Ministerial Code, which governs the behavior of members of the British government, makes no specific mention of secret meetings with foreign heads of government, but it does urge ministers to take "special care" when talking about issues "which are the responsibility of other ministers."
"It is extraordinary that she would think she could do this," Bale said. "She must have known what she was doing. It's incredible."
Patel apologized Monday for setting up meetings through unofficial channels. "In hindsight, I can see how my enthusiasm to engage in this way could be misread," she said.
May's response was more measured. "The prime minister met with the Secretary of State this morning and she reminded her of her obligations which exist under the Ministerial Code," her spokesman James Slack told reporters. "Priti Patel has apologized."
Before it's here, it's on the Bloomberg Terminal.
LEARN MORE