Kenyan Petitioners File Court Bids to Overturn Kenyatta Vote Win
By and
Former lawmaker, activists challenge presidential-rerun result

Supreme Court judges to rule on petition within 14 days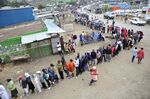 A Kenyan politician and two activists lodged separate petitions at the Supreme Court seeking the annulment of results from last month's presidential-election rerun, arguing the vote was illegal and wasn't free and fair.
Harun Mwau, a former lawmaker, filed a petition challenging the validity of the vote result, Judiciary spokeswoman Lilian Mueni said by phone from the capital, Nairobi. The Independent Electoral & Boundaries Commission erred by proceeding with the Oct. 26 vote without conducting fresh nominations after opposition candidate Raila Odinga withdrew from the race, lawyers for activists Njonjo Mue and Khelef Khalifa, said in a separate application.
"The fresh election was not transparent and was further marred by illegalities and irregularities," law firm Soweto & Co. Advocates. said in the filing. "Given the prevailing conditions and circumstances, the IEBC could not and should not have proceeded with the conduct of the fresh election."
President Uhuru Kenyatta, 56, won 98.3 percent of ballots cast in the rerun, which Odinga, 72, boycotted after the electoral agency refused to heed his demands to fire staff and change voting procedures. While the IEBC defended the election, the opposition dismissed it as a sham and said the final results were doctored. Voter turnout slumped to 38.8 percent, from 79 percent in an Aug. 8 contest that was nullified by the nation's top court after the commission failed to disprove the opposition's claim of rigging.
Investment Destination
The prolonged election standoff has undermined Kenya's reputation as one of Africa's top investment destinations and a regional hub for companies including Google Inc. and Coca-Cola Co. While human rights groups say as many as 80 people have died in election-related violence since the August vote, police say they've only recorded 19 deaths.
The rerun was marred by violence and intimidation, which forced its cancellation in some areas, and thus failed to meet the constitution's credibility threshold, according to court documents submitted by the activists' lawyers.
The Supreme Court, which comprises seven judges, must deliver a ruling on the electoral challenge within 14 days. A new vote must be held within 60 days if the court overturns Kenyatta's victory for a second time.
It was unclear whether the violence and intimidation that occurred and the fact that some people were unable to cast ballots would justify the election's nullification, according to Charles Kanjama, managing partner at law firm Muma & Kanjama Advocates.
"The legal situation is unclear," Kanjama said by phone from Nairobi. "These are matters that have not been determined before. It can go either way."
Odinga, a former prime minister who failed in bids to secure the presidency in 1997, 2007 and 2013, has vowed mass resistance against what he considers an illegitimate government and is urging his supporters to boycott products from three firms seen as aiding Kenyatta's administration: mobile operator Safaricom Ltd.; Brookside Dairies Ltd., which is part-owned by Kenyatta's family; and Bidco Refineries Ltd., an edible oils manufacturer.
— With assistance by Michael Cohen
Before it's here, it's on the Bloomberg Terminal.
LEARN MORE