Iceland Coalition Talks Collapse as Center-Left Efforts Fail
By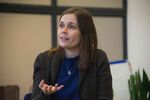 Iceland's president is giving political parties more time to discuss possible coalitions after Left Green Movement leader Katrin Jakobsdottir failed to form a governing alliance.
The Left Greens, the Social Democrats, the Progressive Party and the Pirate Party issued a joint statement saying their combined majority was too slim to form a viable government. Together, the four parties control 32 seats in the 63-strong parliament.
In a statement released late on Monday, President Gudni Th. Johannesson said he planned to summon eight party leaders to explore alternative options before deciding who gets the next stab at forming a majority. His office declined to provide a specific timetable when contacted by Bloomberg on Tuesday.
Asked if she would rule out joining forces with the conservative Independence Party and the centrist Progressive Party in a German-style grand coalition, Jakobsdottir said: "We don't rule anything out."
Before it's here, it's on the Bloomberg Terminal.
LEARN MORE