Early Draft of Comey's Statement Called Clinton 'Grossly Negligent,' Grassley Says
By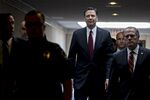 Senate Judiciary Chairman Chuck Grassley said Monday an early draft of then-FBI Director James Comey's public statement on the Hillary Clinton email case called her "grossly negligent" -- a legally significant phrase that was excised from the final version.
The Iowa Republican wants to know who edited the draft and why, and has asked current FBI Director Christopher Wray to provide all documents to that effect, including metadata for the file to see if it shows who made the edits.
A federal statute provides criminal penalties for "gross negligence," but Comey in his public statement on July 5 instead called Clinton "extremely careless" in her handling of classified information when she was secretary of state. He said no prosecutor would bring a criminal case against her.
"Although Director Comey's original version of his statement acknowledged that Secretary Clinton had violated the statute prohibiting gross negligence in the handling of classified information, he nonetheless exonerated her in that early, May 2nd draft statement anyway, arguing that this part of the statute should not be enforced," Grassley said in a letter to Wray.
Grassley has been probing the email case as part of his look at the firing of Comey by President Donald Trump. The ranking Democrat on the committee, Dianne Feinstein of California, has said she isn't interested in reviewing the email case and the panel should keep its focus on possible collusion between Trump's campaign and Russia in last year's presidential campaign and any obstruction of justice in the firing of Comey.
Before it's here, it's on the Bloomberg Terminal.
LEARN MORE