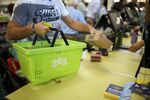 When Amazon scooped up Whole Foods this summer, almost every corner of the corporate world turned (even more)  afraid of Amazon. It was a reasonable reaction, but they also should see the $14 billion purchase for what it was: a sign of Amazon's weakness.  
The reality is Amazon.com Inc. has only whiffed in the more than $700 billion market for U.S. food and beverage sales, and the company needed to change its strategy to have a better shot at one of the biggest categories of consumer spending.
Amazon has spent a decade dabbling rather unsuccessfully in the groceries business with Amazon Fresh, a delivery service started in the company's Seattle hometown and expanded haltingly. Amazon had a hard time mastering the complexities of fresh food delivery, and Fresh never got the aggressive push that Amazon tends to give to high-priority projects.
Since Amazon made its splurge on Whole Foods, the company has acknowledged something obvious but still surprising from the e-commerce king: People don't only want to shop for groceries online, and that's unlikely to change soon.

The company's chief financial officer recently told stock analysts that there is "no one solution" for selling food. Instead, he has also said that people want to do food shopping in a variety of ways -- over the internet, at quick-stop markets or convenience stores and at supermarkets or warehouse membership clubs for bigger trips. 
The comments have made it clear that Fresh wasn't enough for Amazon to attack food and beverage shopping, a category that tops $700 billion a year in the U.S. alone, according to Census Bureau figures. Some researchers say annual spending is closer to $1 trillion, and food purchases are among the biggest categories of Americans' household spending. Only about 3 percent of U.S. grocery shopping happens online, Morgan Stanley estimates. 
It was surprising that the company largely responsible for the e-commerce shift admitted that people still want to do at least some of their food shopping in stores. But Amazon's point of view is retail conventional wisdom. Industry executives use the buzzword "omni channel" to describe people's desires to shop for merchandise in a variety of sometimes interrelated ways. 

Amazon has continued to take steps that show it believes online groceries are not a silver bullet. Last week, Amazon notified people that was shutting down its Fresh delivery service in parts of at least seven states, including in areas of Los Angeles and Philadelphia. Scaling back Fresh seems to be an admission that online grocery delivery still isn't working for Amazon, although it's hard to know whether the company has a longer-term mission in mind.
Amazon has said repeatedly that it is experimenting with a variety of ways to sell groceries, and right now those efforts look like a disjointed sprawl.
In addition to Fresh and the 465 Whole Foods stores, Amazon is also trying out stalls in Seattle that let people order groceries online and go to drive-in spots to pick up the merchandise. Amazon got a lot of attention for a convenience store without cashiers, although the single test location seems to be having technical hiccups. Amazon also sells groceries through Prime Now, the same-day delivery service, and via Amazon Pantry, a Costco-like twist on online shopping. 
Amazon executives were recently asked how all these overlapping pieces of grocery sales fit together. As is Amazon's way, it offered little insight. 
It's definitely worth staying tuned to how Amazon tries to bring together physical and internet shopping in groceries and in other categories that have been relatively immune to internet shopping. News reports have said Amazon has been investigating the possibility of opening clothing and appliance stores. And most Amazon watchers believe the company isn't done buying stores or chains, and retail representatives have wanted to literally ring Amazon's phones in the hopes of being purchased. 
The world has only gotten a sly glimpse so far at how Amazon might tackle groceries. Whatever it does, the company's strategy validates the approach of Wal-Mart and other conventional store chains that believe the virtual won't entirely supplant the physical. Online-only purchasing built Amazon into a corporate titan. But it won't work in groceries, and Amazon knows it. 
Before it's here, it's on the Bloomberg Terminal.
LEARN MORE