Corbyn Reaches Out to U.K. Business After Election Near-Miss
By and
Newly confident Labour leader emphasizes 'common ground'

CBI head Fairbairn warns Labour plans may threaten jobs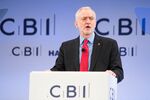 Opposition Labour Party leader Jeremy Corbyn set out to reassure U.K. companies that he has plenty in common with them, a sign of how seriously he takes the prospect of winning power after his near-miss in June's general election.
In a speech to the Confederation of British Industry in London on Monday, Corbyn repeatedly emphasized that his party has "common ground" with business, both on Brexit and on investment.
It was an attempt to show that despite his proud socialist views, he isn't an enemy of free enterprise. He said that his party's surprise success at the ballot box reflected public frustration with the economy as things stand. Labour gains in June deprived Conservative Prime Minister Theresa May of her parliamentary majority and the latest opinion polls put Corbyn's party a couple of percentage points ahead of the Tories.
"Business people across the country have expressed to me a growing awareness -- and acceptance -- that things need to change," Corbyn told the CBI's annual conference. "We all know an economic model that allows a few to grow very rich while the majority face falling incomes and rising indebtedness, that leaves too many people in unfulfilling and insecure work, that is overly reliant on one sector in one region of our country is neither stable nor sustainable."
It's not the first time that the Labour leader has spoken to the CBI, the nation's biggest business lobby -- he addressed it last year, too -- but it's the first time he has done so while regarded by his audience, or indeed his own party, as a serious potential prime minister. He even closed by pledging to work with his audience once he is in government.
Corbyn took up the theme afterward in an interview with Bloomberg Television, when asked what he's saying to businesses who view him with caution over policies that include a renationalization of train operating companies and energy and water suppliers.
'Have a Chat'
"Have a look at our manifesto, have a look at the principles behind it, which are about a fairer society and also about investment in the future," he said. "And if they wish, come and talk to us, have a chat about it all. They may not like it all, they might like it."
CBI Director-General Carolyn Fairbairn responded to Corbyn's outreach with caution. "There is a shared aim," she said. "But there are fundamental differences on the ways to get there. Proposals on skills, innovation and infrastructure have potential, and these should be refined hand-in-hand with responsible business to ensure they are funded in a way that doesn't cost jobs."
She said Labour's "vision of significant state intervention" is likely to "undermine such ambitions."
Before it's here, it's on the Bloomberg Terminal.
LEARN MORE