Brexit Bulletin: Back to Business, Please
By
CBI president seeks Brexit certainty, urges end to 'soap opera'

May offering renewed pledge to secure transition deal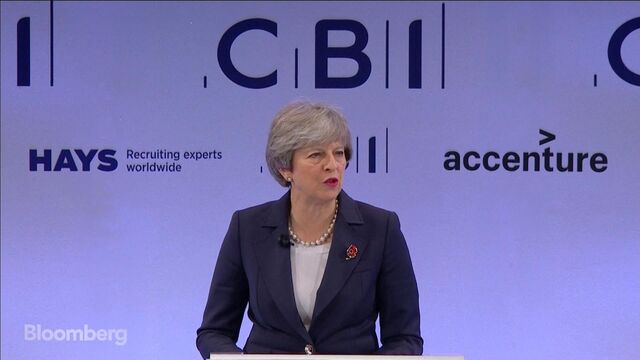 Sign up to receive the Brexit Bulletin in your inbox, and follow @Brexit on Twitter.
Theresa May faces an unusually hostile audience on Monday – the Confederation of British Industry.
The country's main business lobby, traditionally a friend of Conservative governments, will slam May's administration for a "soap opera" approach to Brexit talks, which resume in Brussels this week. CBI President Paul Drechsler will call for national unity last seen in World War II and for certainty about the U.K.'s future relationship with its biggest trading partner. He will speak shortly before May does.

"I'm reminded of a prime-time soap opera, with a different episode each week," Drechsler will say. "First Lancaster House, then Article 50, the European Council, two dinners with Juncker – and no doubt many exciting installments to follow. Each one becomes the Big Story, until the next one rolls around."
May, battling to hold her government together and living in fear of the next scandal, will offer business leaders a renewed pledge that she will try to secure a transition deal from Brussels so that businesses only have to make one set of changes as they prepare for Brexit. "A strictly time-limited implementation period will be crucial to our future success," she'll say, according to her office.
Read more: May's Political Nightmare Just Keeps Getting Worse
But as her own chancellor, Philip Hammond, has said, the value of such a deal diminishes the longer it takes to nail down. Businesses' hopes of getting it in place by the end of the year look out of reach, as the most the U.K. can now hope for is that EU leaders at their mid-December summit agree that talks can move on to trade and transition arrangements. Brexit Secretary David Davis has said he's hoping for an agreement on the implementation period in the first quarter, which would be about a year before Brexit day.
According to survey data released by the CBI on Sunday, about 10 percent of companies have started implementing plans for a "no-deal scenario." By March, that share will rise to 60 percent. Those are just the latest warnings: Britain's top banking regulator said last week that failure to strike a Brexit deal may cost 75,000 jobs in banking and insurance, while banks including Goldman Sachs Group Inc. and UBS AG are already preparing to move.
Brexit Latest

Carney's Warning | The Bank of England may be unable to cut interest rates if Brexit goes wrong for the economy, Governor Mark Carney said. Brexit is already crimping supply and trimming the pace at which the economy can grow without fanning prices, and the central bank might not be able to provide extra support if inflation spins out of control, Carney said on ITV's "Peston on Sunday." It's "an extreme possibility, but it is a possibility," he said. The bank is working on an assumption that the Brexit transition will be smooth, and has signaled two more rate increases in the next three years.
Progress on Bill | EU negotiators have received signals from the U.K. that the government would agree to pay more than €60 billion as a divorce settlement, the Sunday Times reports. Negotiators in Brussels reckon May will be able to claim a victory before Christmas as trade talks kick off, after the premier used officials to hint at financial concessions, the paper says. Oliver Robbins was told last week that EU officials need to see only a "single sentence" in writing to indicate Britain's acceptance of the costs, according to the Times.
Cut-Off Concession | The U.K. conceded that EU nationals entering before 2019 will have residency rights protected, the Guardian reports. The decline in the number of people arriving in the U.K. to work "blew apart" the argument for having an earlier cut-off date, the paper says.
Corbyn at CBI | Labour leader Jeremy Corbyn will make the most of May's weakness with his own address to the CBI on Monday. "Many of you probably feel that the situation is more uncertain and more precarious than ever," he will say. For a reminder on how business is preparing for a possible Labour government, see this piece by Bloomberg's Svenja O'Donnell from late last month.
Irish Issue | Northern Ireland Secretary James Brokenshire is due in Brussels to meet chief EU negotiator Michel Barnier. The issue of the border in Ireland remains one of the three obstacles to be addressed before talks can move on to the future relationship.
Swaps Gone Sour | There's been a surge of companies filing lawsuits over pound-to-dollar currency swaps since the referendum result slashed the value of the pound, Bloomberg's Kaye Wiggins reports, as firms say they were sold products they didn't understand and whose risks they couldn't measure.
Supply Chain Breaks | Nearly two-thirds of European businesses expect to shift some of their supply chain out of the U.K. as a result of Brexit, according to a survey by the Chartered Institute of Purchasing and Supply. Forty percent of U.K. businesses are looking to replace EU suppliers.
On the Markets | The pound will be driven this week by Brexit negotiations and U.K. politics, after losing support from bets on central bank policy tightening, Bloomberg's John Ainger reports.
And Finally...
Britain is embracing "an introverted irrelevance." That's the view of the New York Times' departing bureau chief, Steven Erlanger. 
Britain is a "modest-size ship on the global ocean." It is "it is unmoored, heading to nowhere, while on deck, fire has broken out and the captain – poor Theresa May – is lashed to the mast, without the authority to decide whether to turn to port or to starboard."
Renowned for its "pragmatism, its common sense, its political stability and its unabashed devotion to small business," Britain is now "unrecognizable to its European allies."
So long Steven.

For more on Brexit follow Bloomberg on Twitter, Facebook and Instagram
Before it's here, it's on the Bloomberg Terminal.
LEARN MORE