New Zealand's PM Sees Benefits for Her Country in the TPP Trade Deal
By
N.Z. eyes better access to Japan, Ardern says in interview

New prime minister still has concerns about dispute clauses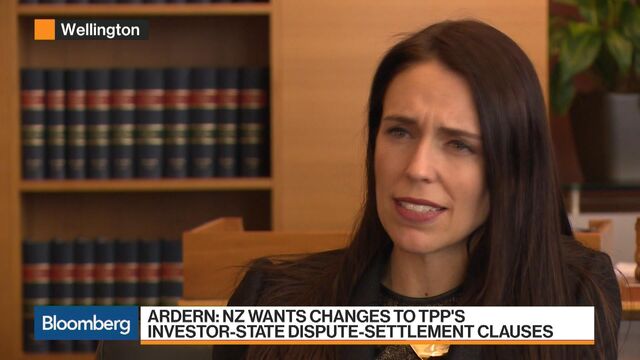 New Zealand Prime Minister Jacinda Ardern said her nation would benefit from the Trans-Pacific Partnership, indicating she won't let concerns over dispute resolution clauses scupper the trade deal.
"There are clear benefits for our exporters in this agreement," Ardern said in an interview in her office in Wellington Tuesday, two days before she travels to the APEC leaders meeting in Vietnam where the Pacific-rim trade pact will be discussed. "New Zealand does not have the access to, for instance, the Japanese market that the Australians do. This would bring benefits to our beef industry, our wine industry, our kiwifruit industry."
Ardern, whose Labour Party took power last month, has already moved to ban foreign buyers of existing residential property, removing one of the key stumbling blocks to her government signing up to the TPP. She still has concerns about the pact's investor state dispute settlement clauses, which would allow foreign corporations to sue member states in disputes.
However, Ardern indicated New Zealand may not pursue those concerns at the expense of reaching agreement.  
"Our objective has been to raise the issue, to pursue it as far as we're able," she said. "I acknowledge that there are competing interests and competing timelines from other member states. We accept that it is very late in the piece."
Asked if that meant New Zealand's concerns would not be a deal breaker, Ardern said: "I've been very careful to make sure I maintain and preserve New Zealand's negotiating position, and I will continue to do so by not pre-empting the position of us or our negotiators around the table."
Before it's here, it's on the Bloomberg Terminal.
LEARN MORE