Air Force Failed to Report Texas Gunman's Conviction to FBI
By , , and
Lawmakers call for looking at gaps in background-check system

Trump says vetting gun purchases wouldn't have stopped deaths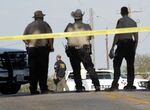 The Air Force's failure to report the 2012 domestic-violence conviction of the gunman in the Texas church massacre to the FBI's criminal information database may have let him slip through a background check to buy the weapon he used to kill 26 men, women and children.
While members of Congress considered looking at gaps in the firearms background-check system, President Donald Trump said during a news conference in South Korea on Tuesday that stronger vetting of gun owners would have made "no difference" in the shooting of churchgoers dead in Texas.
Trump was asked if he would support applying to prospective firearms purchasers the type of vetting he's proposed for immigrants and refugees seeking to enter the U.S.

"If you did what you're suggesting, there would have been no difference three days ago," Trump said.
Air Force Review
Air Force Secretary Heather Wilson and Air Force Chief of Staff General David Goldfein have directed the service's inspector general to review how suspect Devin Kelley's criminal record was handled, Ann Stefanek, an Air Force spokeswoman, said in a statement. They also ordered a review of Air Force databases to make sure other cases were reported correctly.
"Initial information indicates that Kelley's domestic violence offense was not entered into the National Criminal Information Center database by the Holloman Air Force Base Office of Special Investigations," Stefanek said.
Among those killed Sunday at First Baptist Church in Sutherland Springs, Texas, were as many as 14 children. The suspect appears to have been motivated by a domestic dispute, the Texas Department of Public Safety said.
Kelley, 26, served at Hollman Air Force Base in New Mexico from 2010 until he was discharged in 2014. He served a year in confinement after being convicted of assaulting his wife and stepson before being released with a bad conduct discharge, according to Stefanek. Those convicted of domestic violence are prohibited from buying or possessing firearms under federal law.
Lawmakers' Response
Before the Air Force announcement, John Cornyn, the No. 2 Senate Republican, said the shooting may prompt Congress to look at gaps in the firearms background-check system.
"There's enough confusion here, but it looks like he shouldn't have been legally able to get and possess a firearm," Cornyn said. "I don't know if this is a failure of the current system to actually work or whether there are gaps in the way it's structured and the various parts aren't talking to each other. "
Some Democrats called for an investigation into whether the U.S. military is reporting all court martials or domestic violence convictions to the FBI.
"This law evidently was not followed here," Senator Richard Blumenthal, a Connecticut Democrat, told CNN on Tuesday. "That's why I want an investigation."
'Mental-Health Problem'
Trump said when asked by reporters during his trip to Asia that stricter gun control measures would have risked preventing a bystander who targeted the shooter from returning fire.
"I can only say this: If he didn't have a gun, instead of 26 dead, you would have had hundreds more dead," Trump said. "So that's the way I feel about it, not going to help."
Speaking Monday in Tokyo, Trump told reporters, "This isn't a guns situation. This is a mental-health problem at the highest level."
Trump has responded to previous mass shootings, including last month's in Las Vegas, with calls for compassion for the victims but hasn't put forward proposals to prevent future incidents. After Las Vegas, some Republican lawmakers talked about banning or increasing regulation of bump stocks -- devices that allow firearms to shoot at speeds similar to automatic weapons -- but have yet to take any action.
Little Appetite
Senator Dianne Feinstein of California, the ranking Democrat on the Judiciary Committee, applauded Cornyn for taking a look at the background check issue.
"I very much appreciate his looking at this, because I think we've got a huge problem on our hands, with these events just not stopping," she said.
Democratic Senator Chris Van Hollen of Maryland also said it would be a positive development if Republicans showed any interest in fixing background checks. "Long overdue," he said.
Representative Mark Meadows of North Carolina, who leads the conservative Freedom Caucus, doesn't see much chance of Congress enacting new restrictions on firearms, however.
"I don't know that there's any appetite for new laws," he said. "Maybe just strengthening, you know, some of the loopholes."
Bump Stocks
In the aftermath of the Oct. 1 shooting in Las Vegas, in which 58 people were killed and 546 were injured, there was a flurry of calls for banning a device used by that gunman, known as a bump stock, that allows a semi-automatic rifle to mimic the rapid firing rate of a machine gun.
Cornyn said shortly afterward that the Senate should convene a hearing on the issue, but none has been scheduled yet.
Vice President Mike Pence announced he will go to Sutherland Springs on Wednesday to meet with families of those killed and with survivors of the shooting.
— With assistance by Anthony Capaccio
Before it's here, it's on the Bloomberg Terminal.
LEARN MORE