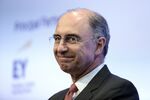 The London Stock Exchange Group Plc needs to be a bastion of good governance. Embarrassingly, it has got into a pickle over its succession planning for esteemed CEO Xavier Rolet.
The U.K. exchange said last month Rolet will leave by the end of 2018, and has started the process to find a successor. On one view, this looked like good forward planning: here was a business transparently starting a process with plenty of time to ensure continuity and a smooth transition.

TCI, an activist fund and 5 percent shareholder, wrote to the LSE board on Friday complaining that Rolet, 57, was being moved on against his will. The fund would prefer him to stay, given the considerable increase in value under his leadership. Instead, it wants Chairman Donald Brydon to leave. TCI is threatening to call a special meeting to oust Brydon, 72, and scrap the search for a new CEO.
The LSE's response to all this is to point out the governance process has been proper and Rolet will be providing input into the search.
It now looks as if last month's announcement was an awkward compromise between the board and Rolet.
The LSE was doubtless keen to accelerate succession following the failure of Rolet's desired merger with Deutsche Boerse AG after almost nine years at the helm. At the same time, the distant departure date creates the impression that Rolet would, indeed, rather stay on. In last month's press release, he made no mention of this being "the right time" to go, or a wish to "pursue new challenges." His words were focused on the LSE.
The awkward question is why, if Rolet was keen to continue, there was any need to speed up his exit.
The merger plan was mainly killed by Brexit. If the LSE needs a new strategy -- and it's not clear that it does -- that's an argument for a getting both a new chairman and a new CEO. Typically in such situations, it's the new chairman who comes first, and then appoints the CEO -- to avoid any impression that appointments have been made the other way round.
By the time a replacement for Rolet is found, it's likely that succession planning for Brydon, who's been in post since the middle of 2015, will be getting under way. Why not accelerate that process?

The market's judgement on this has been poor. LSE shares are down 4 percent since Rolet's departure was announced.
Whatever the difference of opinion between Rolet and the board over succession, the CEO put his name on the arrangement announced last month. Both he and the board now need to review whether that plan really is the best alternative facing the company, and make a case for it.
Before it's here, it's on the Bloomberg Terminal.
LEARN MORE