Hezbollah Chief Says Saudi Arabia Behind Lebanon PM Resignation
By
Hariri had no domestic reason to resign, Nasrallah says

PM accused Saudi rival Iran of destabilizing the country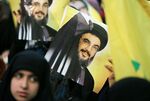 The chief of Lebanon's Iran-backed Hezbollah group said Saudi Arabia was behind Prime Minister Saad Hariri's abrupt resignation, adding that the reasons he gave for stepping down did not align with his domestic position.
Hariri returned from Saudi Arabia late last month relaxed, with promises of large Saudi aid and assurances that the kingdom supports stability in Lebanon, Hassan Nasrallah, whose Hezbollah party has ministers in the Cabinet, said in a televised speech on Sunday.
"There's no internal reason for him to resign," Nasrallah said, adding that his party did not want Hariri to step down. "We should look for the reason in Saudi Arabia."
Nasrallah spoke a day after Hariri resigned, announcing the decision from Saudi Arabia and blaming Iran and its protege, Hezbollah, in one of his harshest attacks against them to date. The decision raises the prospect of a renewed political confrontation between Iran and Saudi Arabia in Lebanon at a time when the Islamic Republic and its allies are widely seen to have won the proxy war against Sunni powers in neighboring Syria. Saudi Arabia and Iran are also on opposite ends of other regional conflicts including in Yemen and Iraq.
The statement by Hariri, a dual Lebanese and Saudi national, was also followed by a sweeping anti-corruption crackdown in Saudi Arabia by King Salman, who ordered security forces to arrest senior princes including billionaire Prince Alwaleed bin Talal -- one of the world's richest men. Prince Miteb, son of the late King Abdullah, was removed from his post as head of the powerful National Guard.
Read more: Saudi Purge Sees Senior Princes, Top Billionaire Detained
Nasrallah said Hezbollah would not comment on the political content of Hariri's speech despite its "harshness." He openly wondered whether Hariri had been caught up in an internal struggle within the Saudi royal family or whether there was a financial dimension -- or if the kingdom was unhappy with Hariri's performance. "It's legitimate to worry," given the number of prominent arrests in Saudi Arabia, Nasrallah said.
Lebanon, a battleground of proxy wars during its 1975-1990 civil war, has largely avoided the sectarian massacres that ravaged its larger neighbor, Syria, for more than six years. Nasrallah called for calm until the situation becomes clear, for people not to take to the streets and "not to worry."
Before it's here, it's on the Bloomberg Terminal.
LEARN MORE