Australian Liberal May Be Latest Lawmaker in Dual-Citizen Saga
By
Alex Hawke may be Greek national by descent, News Corp. says

Hawke, born south of Sydney, says he's not a Greek citizen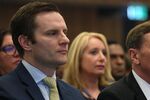 Australian ruling Liberal Party lower-house lawmaker Alex Hawke may be a dual-citizen and ineligible to sit in parliament, News Corp. reported Sunday.
Hawke was born to a Greek mother who immigrated to Australia in the 1950s and automatically obtains citizenship even if it's not exercised, the Sunday Telegraph newspaper reported, citing the Greek embassy in Australia. But the citizenship must be registered on the Records of Municipality of the Hellenic Republic, according to the newspaper.
Hawke is the ruling coalition government's second lower-house lawmaker to be caught up in an ongoing citizenship saga that's wiped out Prime Minister Malcolm Turnbull's one-seat majority. Australia's constitution says people are disqualified from becoming federal lawmakers if they are "a subject or a citizen or entitled to the rights or privileges of a subject or a citizen of a foreign power."
Read more: The Unusual Law Imperiling Aussie Politicians: QuickTake Q&A
Five lawmakers, including the leader of the Liberals' junior coalition partner the Nationals and former deputy prime minister Barnaby Joyce, were last month found by the High Court to be dual citizens and ineligible to remain in parliament.
"I was born in Wollongong, have lived my whole life in Australia and have only ever solely held Australian citizenship," Hawke said in an emailed statement. "I am an Australian citizen only and have never held or acquired or sought Greek or any other citizenship."
Before it's here, it's on the Bloomberg Terminal.
LEARN MORE