What's the Cost When Two Big Hurricanes Hit the Power Grid? $2.5 Billion
By
Utility cost estimates started rolling in during earnings

NextEra estimated $1.3 billion in damages from Hurricane Irma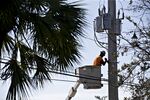 How much havoc did back-to-back hurricanes that crashed ashore in the U.S. this year wreak on the nation's power utilities? Based on this quarter's earnings season, a much as $2.5 billion worth.
NextEra Energy Inc., which owns Florida's largest electric utility, was hardest-hit by Hurricane Irma, which ripped across the Sunshine State in early September. The company estimated $1.3 billion in damages in a filing this week. The company's proposing to add a $4 surcharge to the average customer bill beginning next year to recoup the costs.
Atlanta, Georgia-based utility owner Southern Co. estimated damages totaling $150 million. And Duke pegged its costs in Florida at almost $500 million, excluding damages in North and South Carolina that were smaller.
In Texas, American Electric Power Co. estimated costs of $250 million to $300 million after Hurricane Harvey slammed into the U.S. Gulf Coast in late August. The utility said by email that it's "looking at various options for recovery."
U.S. power generator NRG Energy Inc. estimated financial impacts from storms and related weather of about $40 million this year.
Here's a look at the storm costs estimated so far:

— With assistance by Jim Polson, Emma Ockerman, and Mark Chediak
Before it's here, it's on the Bloomberg Terminal.
LEARN MORE