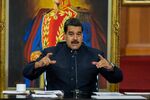 As in any good disaster movie, you could long see it coming—but clearing up the mess from Venezuela's self-declared debt restructuring is going to take years of untangling. 

The country has $37 billion equivalent of outstanding bonds. The state-owned oil company, Petroleos de Venezuela SA, known as PDVSA, has $43 billion. The overall exposure in other forms of unlisted debt will certainly be higher.

Prices for both have more than halved. Higher-coupon bonds have fallen even more, as bonds in distress no longer trade with accrued interest. 
Whilst this isn't the systemic shock that Lehman Brothers Holding Inc.'s collapse caused, there are troubling similarities.
Venezuela's intransigence on honoring its foreign debt will enmesh many institutions for a long while to come. Lehman's bankruptcy negotiations are still ongoing almost 10 years after the firm filed for bankruptcy.
Reputations are at risk for the firms that arranged Venezuela's debt sales, those that processed the interest payments on the bonds and those fund managers still holding the debt. Expect a fight over Venezuela's assets held offshore, with bondholders pursuing proceeds from oilfields, property liens and the like.
It looks like a messy fight—the chances of a Venezuela dictating a restructuring are near zero, as Schroder Plc's Jim Barrineau told Bloomberg News today. But Venezuelan President Nicolas Maduro could still continue to pay relatively light upcoming coupons, make a refinancing proposal to bondholders, and then turn the fight over to the U.S. courts. He would be taking a leaf out of Argentina's book. After many years of wrangling, the South American nation is back in investor's good books—even raising a 100-year bond. 
Sanctions imposed by the U.S. government had put new business with Venezuela essentially off-limits and brought dealing in the country's bonds to a near halt. But the bulk of the country's creditors are in the U.S., and the fraught political relationship between the two countries is bound to complicate any negotiations.
The first point of contention is the $1.1 billion bond that was apparently repaid on Thursday, an intriguing move ahead of an effective declaration of default. Why were those lucky bondholders singled out to the exclusion of all others? Quite whether that money should, or even has, been transferred to the bondholders is up in the air. That leaves several major banks and depository trusts caught up in a predicament, even though they were merely processing a regular bond payment.
Then there's the open question of whether Venezuela is in default, and whether the credit default swaps should pay out. That argument will widen the number of investors and banks involved. 
Similarly, debt arrangers will be heavily scrutinized on their due diligence process. As recently as December, Haitong Bank SA, a European subsidiary of Shanghai-based Haitong Securities Co. Ltd., arranged a $5 billion 20-year bond for Venezuela. (Disclosure: I worked at Haitong in London until May that year.) And there have been many bilateral side-deals to raise financing for Venezuela. In May, Goldman Sachs Asset Management controversially bought $2.8 billion of PDVSA notes, circumventing sanctions.
These are just the known knowns. Lehman's collapse taught the world that seemingly unconnected parties can be enmeshed involuntarily. If Venezuela does collapse into default, all those involved have hard yards ahead.
Before it's here, it's on the Bloomberg Terminal.
LEARN MORE