Trump's NFL Feud Started 34 Years Ago in the Swamps of New Jersey
The president's purchase of the New Jersey Generals didn't turn out well. Some think he's still looking for payback.
By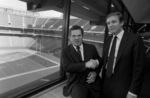 Donald Trump's beef with the National Football League began long before Colin Kaepernick took a knee during the national anthem.
More than 30 years ago, Trump bought the New Jersey Generals in the fledgling United States Football League and came up with a now-familiar strategy: to "create psychological havoc," as he put it then, with the goal of forcing a merger with the prosperous NFL.

The episode ended in a spectacular bust both for Trump and the new league, which soon went out of business. Some think it still gnaws at him as he rattles team owners with calls to fire or bench players who refuse to stand for the anthem.
"There's no question he's getting back for getting his ass beat," said Hugh Culverhouse Jr., the son of late Tampa Bay Buccaneers founder Hugh Culverhouse, who helped persuade NFL owners not to settle an antitrust suit by absorbing some USFL teams into the league. 
"The President's passionate support for the American flag stems from his patriotism and love of country, and it's absurd to suggest otherwise," White House spokesman Raj Shah said. "He will always stand up for the brave men and women who defend our freedoms."
Trump put life in Kaepernick's demonstration—a protest against police brutality—by urging owners to fire or bench players who refuse to stand for the anthem. The outcry, including calls for a boycott, has even spread to pizza sales, according to John Schnatter, founder of Papa John's International Inc., the NFL's official pizza sponsor. On Wednesday Schnatter cited the anthem protest for disappointing results in the latest quarter.
The USFL began playing in the spring of 1983 with a dozen teams. The plan was to grow slowly until it gathered a big enough following to compete with the NFL. But after Trump acquired the New Jersey Generals later that year, he pushed USFL owners to go head-to-head with the NFL immediately—by trying to lure its big-name stars and shift games to the fall.

With Trump's urging, the USFL filed an antitrust suit against the NFL in October 1984, seeking more than $1.7 billion in damages. Over two contentious days on the stand, Trump railed against the NFL, which he said was "decimating" the USFL and "making it impossible to do business." The only way to fight back, he said in a letter introduced at the trial, was to create havoc among NFL owners by riling their business model. He elaborated during his testimony:
"I am very proud of that statement, to be perfectly honest with you. The NFL was making it impossible for us to do business... We were trying to survive. Anything we could do to survive that was legal and legitimate we had to be able to do because we were fighting an adversary which was impossible to fight."
Did that include having spies present when the NFL held a meeting at the Trump-owned Grand Hyatt hotel in New York, the NFL's lawyer asked, pointing to a reference Trump had made in an earlier deposition. Trump's response:
"I said it in jest, more than anything else, but I said they checked the room and they checked for bugs and they checked for everything else, perhaps in terms of the meaning, the only thing they didn't check was waiters with 140 IQ. I don't know any waiters in the building. I didn't speak to any waiters in the building but it was said to me in a rather joking fashion by somebody at the hotel at that time."
The NFL lawyers suggested Trump's motivation was simply to force a merger with its rival to enhance the value of his franchise. Not true, he replied, though he acknowledged that league mergers are "not an uncommon thing."
Read More: The Transcript of Trump's Trial Testimony
The jury concluded that the NFL had a monopoly but that it didn't interfere with the USFL's operations. It awarded the USFL $1 in damages.

The league never played another game and there was no merger.
Culverhouse Jr. said Trump's behavior on the stand offended a lot of the owners and eroded any desire they had to settle the case.
"It fits the way he acts today," Culverhouse said. "He has some thought that he will intimidate you and you'll buckle under. The biggest problem for Trump is he pissed off my father."
— With assistance by Jennifer Jacobs, and Jennifer Epstein
Before it's here, it's on the Bloomberg Terminal.
LEARN MORE