Republican Tax Plan May Leave Future of Stock Options in Flux
By
Stock options would be taxed immediately when they vest

Could lead to companies scrapping the contracts altogether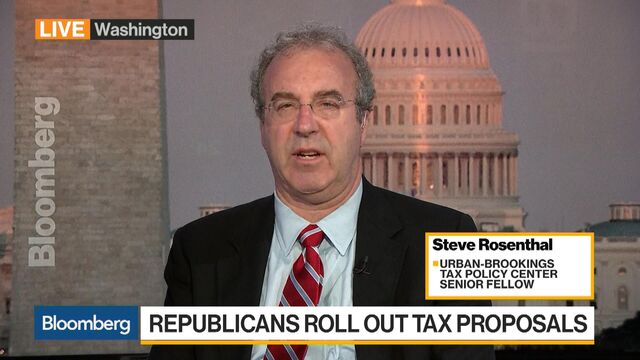 Stock options, a staple of executive compensation, could cease to exist under the Republican tax plan, which proposes to classify them as deferred pay, or money that's already earned but received at a later date.
The GOP plan could "cause options to be extinct," said Ian Levin, a partner at law firm Schulte Roth & Zabel.
That could be a sea change, since chief executive officers of S&P 500 companies got one-fifth of their pay in the form of options last year, on average, according to the Bloomberg Pay Index.
Options are contracts that give holders the right to purchase shares in the future at a specific price. Those holders typically have to pay income taxes on any gains they receive from buying stock when it trades at a higher price than when the contracts were issued. At public companies, employees with options are typically able to buy the stock when they vest within three or four years and generally have 10 years from the grant date to do so. The shares can then be sold immediately or at a later date.
Under the GOP's bill, option owners would be required to pay income taxes immediately when the contracts can be used to buy shares, instead of when they are actually purchased. If employees wait to sell the stock and it subsequently plunges in value, they run the risk of having footed a tax bill for a gain that's never realized.
Companies use stock options as compensation to encourage workers to take a longer view of the business by promising a big windfall if they work hard. An employee who believes the stock price will climb, will exercise an option as late as possible to realize the gain. Selling shares immediately when options vest defeats that purpose, and top executives at public companies may not even have that choice since they're usually restricted to trade during certain periods.
If the bill passes in its current form, U.S. companies will likely replace stock options with additional bonuses or restricted shares, which already get taxed immediately when they vest.
Read also: Republicans Want to Kill Rule That Led to Astronomical CEO Pay
The plan "will change the way compensation works enormously," Dan Morgan, a partner at Blank Rome LLP, said in a telephone interview, adding that it's still "extremely incomplete," and that there are various ways lawmakers can address these issues.
— With assistance by Alicia Ritcey
Quotes from this Article
Before it's here, it's on the Bloomberg Terminal.
LEARN MORE