New Fed Chair Could Be Quick to Raise Rates If History Is a Guide
By
Fed appointees took action soon after stepping into new role

Four of the last 5 Fed chairs tightened policy within months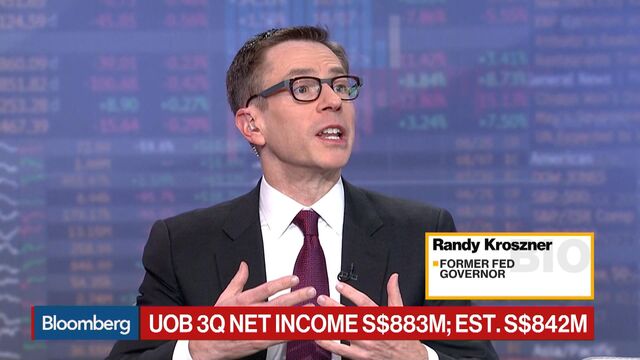 Jerome Powell will have history on his side if he's quick to get started raising interest rates.
While it took the current chair, Janet Yellen, almost two years before increasing the U.S. benchmark for the first time, the four previous holders of the office tightened monetary policy within at most two months of taking the job.
Ben Bernanke started in February 2006 and shifted in March; Alan Greenspan took over in August 1987 and acted in September; Paul Volcker waited just over a week before pulling the trigger in 1979. Even his predecessor G. William Miller, who lasted less than two years in the role, lifted rates by the time he'd served two months.
What's key to remember, however, is that the past isn't necessarily prologue and that any repetition of history would be more coincidental than an attempt by Powell to stamp his mark on Fed policy early on.
His predecessors took action because the economy demanded it. When Bernanke first hiked in 2006 he was just continuing the tightening path that Greenspan had blazed. Volcker was in the early stages of the crackdown on inflation which made his name. Greenspan's increase was the first in three years and aimed at "potential inflationary pressures," but he was soon cutting as the stock market crashed.
Yellen's term ends Feb. 3 and subject to securing Senate confirmation, Powell will chair his first meeting of the Federal Open Market Committee on March 20-21.
As it now stands investors are already preparing for a series of rate rises in 2018. The central bank's policy-setting committee is expected to deliver another hike in December, which would lift its target range to 1.25 percent to 1.5 percent. Officials see rates reaching 2.75 percent in the longer run, according to their median forecast in September.
For market veterans' reflections on previous Fed chair transitions, click here
Still, early action by a new chair might not affect longer-term expectations for rates. The amount of Fed tightening priced into markets for the next 12 months is equal to that priced for the entire four-year period after that, a phenomenon not seen since June 2008.
— With assistance by Simon Kennedy
Before it's here, it's on the Bloomberg Terminal.
LEARN MORE