Cohn Says Trump Will Pick Fed Vice Chairman This Year
By
'We're going to be meeting with Jay in the next couple days'

Trump working hard to vet potential Fed candidates, Cohn says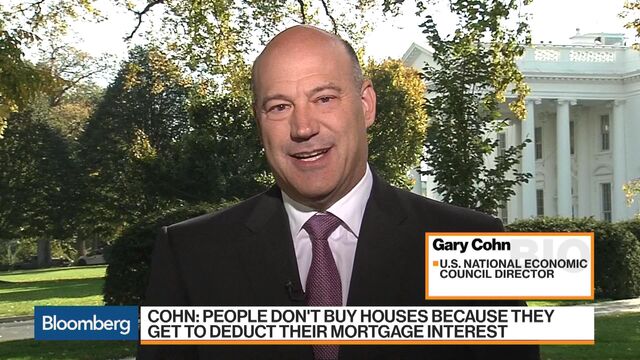 President Donald Trump's top economic adviser said the administration won't wait long before selecting a No. 2 official at the U.S. Federal Reserve to work alongside incoming Chairman Jerome Powell.
"The president made a great selection," National Economic Council Director Gary Cohn said in an interview on Bloomberg Television Friday, the day after Trump picked Powell to replace Fed Chair Janet Yellen. Her term ends Feb. 3. The nomination of Powell, who goes by Jay, is subject to Senate confirmation.
"We're going to be meeting with Jay in the next couple days here, and we're going to be getting some input from him," Cohn said. "But the president has been working very rigorously on picking a vice chairman and I do think you'll hear something from the president this year."
Trump interviewed Stanford University economist John Taylor while reviewing candidates to chair the central bank and said in October that teaming him up with Powell in the top two slots "is in my thinking, and I have a couple of other things in my thinking, but I like talent and they're both very talented people."
It was not clear from Trump's remarks which man he saw as chair and which as Number Two.
Taylor, an advocate for policy driven by a formula that bears his name, was the preferred choice of Republican conservatives. He didn't immediately respond to a telephoned request for comment on whether he'd be open to serving as vice chairman.
Heavyweight Economist
Powell is a law-school graduate. If confirmed by the Senate, he will be the first non-Ph.D. economist to lead the Fed since Paul Volcker was appointed in 1979. As a result, the Trump administration may see a benefit in providing him with some backup by nominating a heavyweight economist as his Number Two.
That position has been vacant since Stanley Fischer stepped down last month and is among three slots currently open on the seven-seat Fed Board in Washington that Trump can fill, giving him an opportunity to influence monetary policy for years to come.
The number of vacancies will climb to four if Yellen resigns as a Fed Board governor when her term as chair expires in February, as is widely assumed. The Fed declined to comment on Yellen's plans regarding her tenure as a governor, which doesn't run out until 2024.
Trump has already put one person on the Board when the the Senate confirmed Randal Quarles as a Fed governor and vice chair of supervision last month.
During the search for chair, officials said the White House was focused on assembling a Fed team with varied expertise, ranging from monetary policy to familiarity with large and small banks and payment systems. Experience with public policy and politics is sought as well, they said.
Before it's here, it's on the Bloomberg Terminal.
LEARN MORE