Madrid's Tough Stance Sees Catalans Jailed, Sides Entrenched
By and
Puigdemont, in exile, warns of an attack on region's democracy

Judge cites risk of 'criminal action' in incarceration order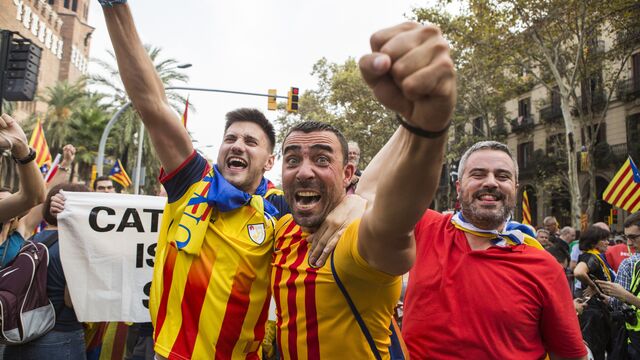 Self-exiled Catalan leader Carles Puigdemont lashed out at Madrid after a court imprisoned separatist leaders who backed an ill-fated declaration of independence, inflaming the movement's resolve and threatening to deepen Spain's divisions.
"As the legitimate president, I demand the release of all the members of the Catalan government," Puigdemont said Thursday in an address on Catalonia television. "This is a grave error. It's an attack on democracy."
Pro-independence demonstrators took to Barcelona's streets when eight officials from the ousted Catalan administration were incarcerated after Prime Minister Mariano Rajoy turned to courts to punish the independence movement. Officials from Barcelona's City Hall unfurled a banner that read "Freedom for political prisoners" after the decision to jail the group, which includes Vice President Oriol Junqueras.
A defiant Puigdemont -- TV3 said he spoke from somewhere in Belgium -- told residents of Catalonia to prepare for a "long and ferocious" period of repression.
With Catalonian regional elections called for a few days before Christmas, a poll published Thursday by the El Espanol news website suggested that pro-independence candidates are set to win 68 seats, a slim majority in the 135-seat assembly.
"Whatever the legal arguments may be, it looks like a tough approach that doesn't move the process forward and leaves positions more entrenched," said Angel Talavera, an analyst at Oxford Economics in London. "Nothing gets mended, and we are no closer to any kind of resolution."
Evidence emerged Friday of the possible economics strains caused by the crisis. Catalonia accounted for more than a quarter of the increase of 56,844 in the number of Spaniards newly registered as unemployed in October.
Why Catalonia Still Fights Battle That Divided Spain: QuickTake
The six men and two women from the ousted administration who submitted to Madrid's authority were incarcerated because of flight risk pending a trial. Raul Romeva, the ousted head of foreign affairs for the regional government, and Jordi Turull, who was regional spokesman, were among the group. All face up to 30 years in prison for sedition and rebellion.
"I've been jailed for being loyal, do not fear for me," Turull said on Twitter. He and the others were taken away in police vans.
Catalonia's 7.5 million people remain deeply divided over their relationship with Spain. The semi-autonomous government, which controls police, health care and schools, will be restored after the December election. But it doesn't control the tax take that accounts for about a fifth of Spain's total.
"The legitimate government of Catalonia has been imprisoned for its ideas and for staying loyal to the mandate approved by the Catalan parliament," Puigdemont said on Twitter, accompanied by a photo of the ousted government.
With the dispute now shifting to the Spanish judiciary, Rajoy needs to manage his victory over the rebel region without making political martyrs of the Catalans.
"It suffices to recall that some of the accused have gone to other countries, eluding penal responsibilities," National Court Judge Carmen Lamela wrote in her ruling Thursday. "There is a high risk of repeat criminal action, taking into account that the criminal activities described in this ruling have been planned and carried out in a conscious way by the accused for more than two years."
The spectacle of a democratically elected government in court -- and then in jail -- may be the last thing Rajoy needs as he seeks to bring Spain's economic powerhouse back into the national fold. 
"This allows separatists to revamp their message going into the election, but the concept of actual independence remains remote," said Ignacio Molina, senior analyst at the Madrid-based Elcano Institute. "They're going to be negotiating from a weakened position."
Jaume Alons-Cuevillas, a lawyer representing Puigdemont, said Spain's normally slow-moving justice system is moving quickly in handling the case of the former Catalan officials. "In this case, they've applied a turbo boost," he told broadcaster Antena 3 Friday.
The separatists held a makeshift independence referendum Oct. 1 in defiance of the government and courts. Rajoy sent in riot police, who beat voters as they shut down polling stations.
That built momentum for the cause, culminating last Friday when Catalan lawmakers voted to declare a breakaway from Spain. Rajoy used emergency powers to seize control of the new Catalan Republic before it was even off the ground.
Speaking to reporters outside the courthouse Thursday, former Catalan leader Artur Mas said the jailings will do nothing to resolve long-standing grievances.
"The more gasoline and wood you throw on to the fire, the bigger the fire gets," Mas said.
— With assistance by Esteban Duarte, Thomas Gualtieri, and Rodrigo Orihuela
Before it's here, it's on the Bloomberg Terminal.
LEARN MORE