Lewandowski Stars in Pro-Trump Ad Blitz for GOP Tax Plan
By
America First Policies to run television and online ads

Trump advocacy group to spend $1 million in initial campaign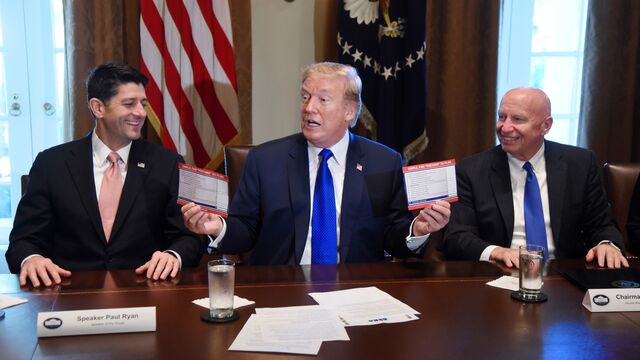 An issue advocacy group aligned with Donald Trump plans to spend about $1 million on ads promoting the Republican tax proposal and will feature the president's first campaign manager, Corey Lewandowski, as its pitchman.
The television and online campaign is the biggest yet financed by the White House-sanctioned America First Policies political organization.
The spending is an initial down payment on what the group says will be a multimillion-dollar effort it hopes will help the president and Republicans score their first major legislative win.
"The vast majority of Americans are deeply dissatisfied with our current tax system, and they support President Trump's commitment to cutting taxes for the middle class," said the group's spokeswoman, Erin Montgomery. "We at America First want to do our part to mobilize these voters to call their leaders in Congress and encourage them to seize this once-in-a-generation opportunity to pass tax reform."
Lewandowski, who ran Trump's 2016 campaign before being pushed out by Paul Manafort, tells "fellow patriots and friends" watching the 30-second spot that they need to rally behind the tax plan and confront special interests that will try to stop the legislation.
Shadow Looms
The Lewandowski ad blitz is being rolled out as a shadow looms over the White House following Special Counsel Robert Mueller's indictment of Manafort and his business partner Monday on money-laundering and tax charges in the ongoing investigation into links between Russia and the Trump campaign.
Since its creation in January, America First has served as a landing stop for several former Trump aides, including Lewandowski as a chief strategist. Rick Gates, a Manafort deputy at the campaign who was also indicted, joined and then departed the group earlier this year. Lewandowski continues to have access to the president, including flying to a rally in Ohio aboard Air Force One in July.
The advertising support from America First Policies comes after it and other pro-Trump groups were criticized earlier this year by some supporters for not playing a more active role in pushing the president's agenda.
America First Policies and its allied super-political action committee, America First Action, have raised about $25 million this year and have set a goal of raising an additional $75 million over the next year, Montgomery said.
Texas Ranch
Late last month, America First Action donors met at a Texas ranch owned by billionaire oilman T. Boone Pickens to discuss future actions. The president's eldest son, Donald Trump Jr., and Brian Walsh, America First Action's president, gave presentations to the group about the tax debate and the role the group plans to play in the 2018 midterm elections. The group recently added energy executive Harold Hamm to its list of donors.
The new ads, scheduled to start Friday and run for about a week, are set to appear on Fox News Channel and on local cable in five congressional districts represented by lawmakers who opposed a budget resolution that was a precursor to the tax legislation.
Those targeted districts are represented by Republicans Leonard Lance of New Jersey, Ken Buck of Colorado, Peter King of New York, Thomas Massie of Kentucky and Democrat Matt Cartwright of Pennsylvania.
Several of them opposed the budget resolution because there was no agreement in place for the tax proposal to protect the state and local tax deduction that is relied upon in areas with high local taxes. The legislation released Thursday allows deductions of state and local property taxes, up to $10,000, and lawmakers from high tax areas have continued to express concerns.
Besides the TV advertising, America First Policies plans to also target digital advertising -- on Facebook and Twitter -- in 30 congressional districts with members who voted against the budget resolution.
Separately, the American Action Network, another conservative advocacy group, said Friday it plans to launch a $1 million radio campaign promoting the tax legislation.
Before it's here, it's on the Bloomberg Terminal.
LEARN MORE