DOJ Official Aided Ponzi Schemer in FBI's Probe, Lawyer Says
By
Claims text messages show hedge fund scammer had inside help

'Tons of snort': Jailed financier's texts awash in cocaine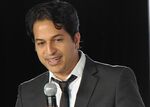 A high-ranking Justice Department official tipped off disgraced hedge fund founder Stephen Maiden when he was under federal investigation in 2012, giving him advice on how to evade wiretaps and promising to help sway FBI agents, a lawyer told a Manhattan jury.
Maiden, now serving a seven-year term for running an $8.9 million Ponzi scheme, is the government's star witness in the fraud trial of technology entrepreneur Omar Amanat and his alleged partner in a market-manipulation scam, former KIT Digital Inc. Chief Executive Officer Kaleil Isaza Tuzman. Prosecutors say the three men conspired to inflate KIT's shares.
Amanat's lawyer, Randall Jackson, sought on Friday on the fifth day of trial to undermine Maiden's testimony and credibility by revealing for the first time what he indicated was a corrupt relationship between Maiden and a DOJ official that evolved after federal agents visited Maiden's home.
Numerous text messages, buried in the government's own electronic evidence, will show that one of Maiden's best friends, Michael Yavelberg, enlisted the help of his sister, Jamie Yavelberg, a DOJ deputy director for civil fraud cases in Washington, to help Maiden as his hedge fund was collapsing, Jackson said.
"She gave you instructions on how to evade wiretaps," Jackson said. "She told you she was going to influence the FBI agents in this case."
The texts weren't displayed for jurors, but were shown to Maiden and are expected to be revealed in detail when the trial continues next week. Maiden, testifying in tan prison garb and shackled feet, disputed much of what Jackson said about the messages.
Jamie Yavelberg didn't respond to messages seeking comment. Michael Yavelberg, who lives in New Jersey, declined to comment when reached by phone. Lauren Ehrsam, a spokeswoman for the Justice Department, declined to comment.
Tech Entrepreneur's Trial Is Biggest Battle of Career
Jackson revealed further text messages to undermine Maiden's claim, made under oath, that he only used cocaine about twice a year during the life of his hedge fund, which he founded in 2006. In fact, Jackson said, the text messages showed Maiden regularly discussed cocaine use with his friends. They referred to the drug as "slitch."
In one text exchange, Maiden's friends said they planned to bring "tons of snort" on a planned golf outing. "Duh, I never golf without slitch," Maiden responded, according to a copy of the text messages shown in court. Maiden said he golfed regularly.
"Not even my kids compare to a tight slitch buzz," Maiden said in another text. Still other messages included references to doing cocaine with strippers, and how "slitch makes the world go 'round."
But Maiden repeatedly denied using cocaine as often as the texts suggested, telling the jury that all his references to the drug were jokes.
"It's just more silly, awful ridiculous humor," Maiden said after a half-dozen exchanges were dissected by Jackson.
KIT Investment
Maiden's decision to invest $1 million in KIT, a troubled video-software company, and another $2 million in Enable Invest Ltd., a fund run by Amanat's brother in Dubai, would ultimately lead to the collapse of Maiden's hedge fund, Maiden Capital LLC, based in Charlotte, North Carolina.
KIT's financial woes are what tipped off FBI agents to Maiden, who'd sunk all his money into the company after a client introduced him to Amanat. At the time, Amanat was pitching KIT shares to investors. Maiden testified this week that he was dazzled by Amanat due to his history of business success and his Hollywood ties.
KIT, which was headquartered in New York and Prague, went bankrupt in 2013. Maiden pleaded guilty in 2015 to securities fraud and was sentenced for what amounted to an $8.9 million Ponzi scheme. Amanat and Tuzman were charged later. Both maintain their innocence.
The case is U.S. v. Amanat, 15-cr-536, U.S. District Court, Southern District of New York (Manhattan).
— With assistance by Kenneth Pringle
Before it's here, it's on the Bloomberg Terminal.
LEARN MORE