Cohn Rebuts Blankfein Worry, Says It's Time for Tax Stimulus Now
By
Blankfein questioned need for economic boost from tax reform

Cohn said lackluster wage growth justifies a fiscal stimulus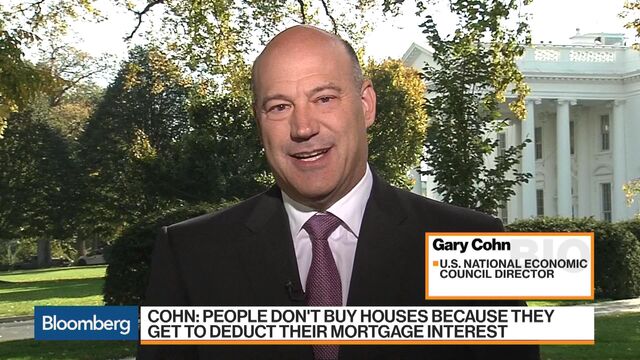 White House economic adviser Gary Cohn said the time is ripe for a fiscal boost to the U.S. economy, disagreeing with the man who was his boss for more than a decade at Goldman Sachs Group Inc.
Cohn's remarks Friday on Bloomberg Television came a day after Goldman Sachs Chief Executive Officer Lloyd Blankfein said "when we're kind of, mostly, at full employment, when GDP last registered at 3 percent -- I don't know that this is the moment that you provide the biggest stimulus."
Cohn, who left Goldman Sachs to run President Donald Trump's National Economic Council, took another view when asked about Blankfein's assessment.
"If you looked at today's employment data report, you've had no wage growth," Cohn said after the Labor Department published its jobs report for October, which showed average hourly earnings rose less than forecast. "Our tax plan is designed to create wage growth."
The clash underscores the Trump administration's challenge in promoting a plan to cut corporate and individual tax rates with an economy in its ninth year of expansion and a tight job market. Critics of the proposal say it threatens to overheat the economy and exacerbate the budget deficit, while proponents say it's needed to boost after years of lackluster recovery.
Wages have been slow to pick up during the expansion, even as unemployment has declined sharply. Average hourly earnings climbed by 2.4 percent last month on an annual basis, data released Friday showed, par for the course in recent years but well below the above-3-percent readings the index achieved regularly in 2007 and 2008.
To be fair, Blankfein allowed that "a lot of people, the president, think that the economy can grow really fast, and I'm not taking the other side of that. I think the economy can grow faster." He offered his own prescription on how to get it there.
"The freest kind of stimulus you could provide for the economy is confidence," Blankfein said, putting in a plug for repealing redundant regulation. "On the actual expenditure of money or taking in less taxes, some more of it we can afford to have, but not so much of it that we make inflation inevitable down the road."
— With assistance by David Westin, and Jonathan Ferro
Before it's here, it's on the Bloomberg Terminal.
LEARN MORE