Here Are Brazilian Presidential Hopeful Joao Doria's Economic Proposals
By and
Doria favors gradually selling off oil giant Petrobras

Central bank has sufficient autonomy, no need for independence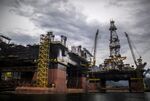 Brazil faces a general election in October 2018 and Sao Paulo Mayor Joao Doria, a businessman and former TV show host, has expressed presidential ambitions and urged centrist parties to forge a common platform to combat extremist candidates. In an interview with Bloomberg in Sao Paulo he detailed some of his views on economic policy.
On Privatization
Doria supports "gradually" selling off state-run oil giant Petrobras. "There is no need for Petrobras to keep being a state-owned company. Brazil is isolated in the world. We can't be afraid to do what's necessary to insert Brazil in the global and liberal economy," he said. He is also in favor of privatizing Brazil's electricity utility Eletrobras, ports, airports, railways, and waterways.
On Reforms

Doria supports structural economic reforms being pushed by the administration of Michel Temer. The order of importance is: concluding labor reform, getting the pension reform to a vote in congress, and moving forward with the taxes and political reform. "The next president will have to prioritize pension reform," he said.
On Trade Relations
Doria wants to review Brazil's import tariffs in a "judicious" way so that the country becomes a more open economy. Brazil must maintain a floating exchange rate. "We must avoid any protectionism that limits the country's economic growth," he said.
On Central Bank Policy
Brazil's central bank, although not independent, has autonomy and that fact has been respected and well understood by the market, according to Doria. "We don't need more than that," he said.
On Economic Team
Doria believes the current economic team is a good one, producing good results as Brazil's economy has reached an inflection point and is leaving recession behind. He praised Finance Minister Henrique Meirelles, central bank President Ilan Goldfajn, and Ana Paula Vescovi, the Treasury secretary. But he said people like former central bank chief Arminio Fraga should also contribute their knowledge and experience to the country's development.
On Social Programs
Employment will be the central issue of the 2018 next elections. "We must talk about jobs, not only about privatization," he said. The cash transfer program for the poor, Bolsa Familia, must be preserved. Public security is an issue the next government must tackle. Poverty contributes to violence and deputy Jair Bolsonaro's proposal to arm the population to help combat crime is wrong.
Before it's here, it's on the Bloomberg Terminal.
LEARN MORE