American Drug Deaths Rose More Last Year Than in the Previous Four Combined
The epidemic is accelerating, new data show.
By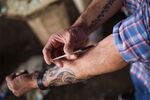 American drug deaths rose by 21 percent last year, according to early federal data—a one-year spike that amounts to a bigger jump than over the previous four years combined, showing an already troubling crisis accelerating.
For every 100,000 residents, almost 20 died in drug overdoses in 2016, compared to 16.3 the year before, according to the data released by the Centers for Disease Control and Prevention.

The rate of deaths increased slightly in every quarter of 2016, indicating an accelerating epidemic. That crisis has been driven by opioid abuse, as potent synthetic drugs such as fentanyl and carfentanil, an elephant tranquilizer, circulate more on the black market.
The overall rate of American drug-overdose deaths has more than tripled in this century. The analysis for 2016 is based on provisional data from the CDC, which compiles mortality data from death certificates maintained by state and local authorities. More complete data will become available in the months ahead.

Mortality from all causes also appeared to be rising. That's part of a recent, troubling trend of stalled gains in life expectancy—and even reversals. In the 12 months ending June 30, 2017, the age-adjusted death rate rose slightly, to 727.8 deaths per 100,000 people, from 723.6 in the prior 12 months. (Age-adjusted rates take into account the changing age distribution of the population.)
Before it's here, it's on the Bloomberg Terminal.
LEARN MORE