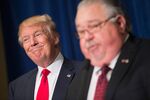 The fact that Sam Clovis isn't a scientist, has essentially no relevant experience, and has a history of making racially inflammatory comments wasn't enough to dissuade the Trump administration from nominating him to be the USDA's chief scientist. It took his ties to the escalating Russian collusion scandal to get him to withdraw. 
As President Donald Trump looks for a Clovis replacement, there's not a high bar to clear; a scientist would do. But the administration could clear that bar, and then some, by following the template for its choice to lead the FDA -- another important, science-driven regulatory body. 

I speak of Scott Gottlieb, who was confirmed as FDA Commissioner in May. He's the rare Trump appointee that has earned praise as both a nominee and for his actual performance. Gottlieb has made such an impression during his limited tenure that he's been on a short list for a cabinet-level promotion to head the Department of Health and Human Services after his former boss Tom Price proved too fond of taxpayer-funded luxury travel.  
Gottlieb checked all of the qualification boxes. He is a physician with pharma-industry experience and has actually worked at the agency he now heads. He also has Republican bona fides; his previous FDA tenure was under President George W. Bush, and he was a resident fellow at the American Enterprise Institute. 
His nomination was somewhat controversial due to his extensive industry ties. But those criticisms have faded. Pharma companies do like his push to make the agency more flexible and speed up drug approvals. But he's also been the lone administration official to take concrete action on bipartisan issues of concern such as drug prices and the opioid crisis. 

While he's been fairly industry friendly, Gottlieb hasn't been a pushover. He's aimed to make it harder for drugmakers to hike prices on older medicines and to speed up generic approvals in a way that could hurt the sales of many pharma firms. 
The USDA chief scientist oversees a multi-billion-dollar research budget affecting a wide swath of the U.S. food and agriculture businesses. Gottlieb is a blueprint for the kind of nominee that would benefit both the administration and the industries the USDA serves -- politically friendly, but not politicizing; and willing to both acknowledge and buck corporations as needed.
Of course, the administration almost went with a wildly unqualified and needlessly controversial pick at the FDA, too -- a Peter Thiel associate with no medical experience and fringe ideas about drug approvals. 
In that case, the administration followed its better angels. Lets hope it does the same with its second pick for the USDA.
Before it's here, it's on the Bloomberg Terminal.
LEARN MORE