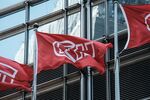 Li Ka-shing believers, get ready for payday.
CK Asset Holdings Ltd.'s agreement to sell its stake in The Center for HK$40.2 billion ($5.2 billion), a record for a Hong Kong office tower, should surely result in either a buyback or special dividend.

CK Asset, which changed its name from Cheung Kong Property Holdings Ltd. earlier this year, is in the midst of a transformation. Much like other parts of Li's empire, the company has been ramping up offshore investments while reducing its exposure to the former British colony. It's no surprise one of The Center's purchasers is owned 55 percent by state-controlled China Energy Reserve & Chemicals Group.
The company is also becoming more like a trust business, relying increasingly on less volatile income streams. Over the past 12 months, it's spent billions in the search for more stable yield plays. There was Australian power provider Duet Group, an aircraft lessor, Canadian water heater maker Reliance Home Comfort and German smart-meter firm Ista International GmbH. Those four assets collectively have investment yields of about 6 to 12 percent, according to CIMB Research.
That's well above returns in Hong Kong's office market of around 2.5 percent. Once largely a property development play, CK Asset is now much less so. Operating profit from hotels, serviced apartments, property management, aircraft leasing and infrastructure is still only 11 percent of the total, but that share is growing, data from Bloomberg Intelligence show.

While some of The Center proceeds will likely go toward this metamorphosis, an investor giveaway of some sort is inevitable. Li's cash rich Power Assets Holdings Ltd. announced a special payout in July after the billionaire's attempt to increase his 39 percent stake fell through a few years back. Considering Li's stake in CK Asset of about 25 percent, it's more likely the company will continue its buyback theme. This year alone CK Asset has spent HK$7 billion on purchasing shares, amounting to around 3 percent of the outstanding stock.
With so much mainland demand, it's too early to call time on Hong Kong's crazy property market. CK Asset's accelerating shift out of it, however, seems prudent.
Before it's here, it's on the Bloomberg Terminal.
LEARN MORE