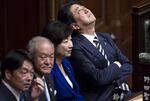 Tax hikes are rarely welcome anywhere, but there's one example in Japan that's proven particularly unpopular: the sales tax. It has a history of causing economic slowdowns and damaged political careers. And yet Prime Minister Shinzo Abe called an election for last month on a pledge to increase the tax in 2019, albeit softening the policy with a proposal to funnel some of the revenues into education. While Abe has twice postponed plans to lift the sales tax, his ruling Liberal Democratic Party's decisive election victory will make it harder to reverse course this time.
1. Why must Japan increase the sales tax?
Its debts have spiraled. As welfare costs balloon for its aging population, public debt is already more than twice the size of gross domestic product. Lawmakers agreed in 2012 to double the rate to 10 percent in two stages, first lifting it to 8 percent in 2014. Those rates compare with 20 percent in the U.K., 10 percent in Australia and 25 percent in Denmark, which are applied with some exemptions.
2. Why is it so controversial in Japan?
Since its introduction in 1989, the tax on goods and services has tended to squeeze consumption. That has prompted recessions, alienated voters and contributed to the fall of at least three prime ministers. The 2012 agreement was among the reasons then-prime minister Yoshihiko Noda lost the general election to Abe later that year. The climate may not be so perilous now: An October survey by the Yomiuri newspaper found 37 percent of respondents opposed raising the tax, with the remainder in favor but divided on how to spend the proceeds, with 29 percent preferring debt repayment.
3. Is the tax working as planned so far?

Kind of. The extra revenue has slowed the increase in the nation's debt. But the government had to drop its target of reaching a primary balance surplus by fiscal 2020, the first step in starting to reduce debt. Abe's also keen to deflect criticism that too much spending is focused on the elderly, who make up about 28 percent (and growing) of the population. He said last month he wants to spread the benefits more widely, creating a "social security system for all generations."

4. Will Abe go ahead with the tax this time?
After the last rise sparked a recession in 2014, Abe twice balked at the promised second hike, announcing the decision both times ahead of an election. This time he is under more pressure to follow through, having promised to spend some of the money on family benefits such as free preschool education. Failing to do so could anger voters and damage his already wobbly support. (He needs to win a party leadership election next year in order to stay on through 2020 and become Japan's longest-serving prime minister). While Abe says he would postpone the hike if a major financial crisis struck, Japan's economy is enjoying its longest expansion since 2006 and is forecast to be healthy in 2019, boosted by demand in the run-up to the 2020 Tokyo Olympics.
5. Could Abe fund his pledges without the sales tax hike?
Other ways of raising funds for education have been proposed, including issuing more bonds or an income tax surcharge called "child insurance." Or Abe could simply opt to rein in spending on the elderly, according to Robert Feldman, senior advisor at Morgan Stanley MUFG Securities in Tokyo, who says the imbalance in social spending is "a bad growth policy because a more educated younger population is necessary to raise productivity."
6. When can we expect a decision?
Most analysts say Abe must make a final announcement about a year ahead of the planned increase in October 2019, to leave time for the necessary preparations. Marcel Thieliant, senior Japan economist at Capital Economics Asia, expects consumption to rise by 2 percent the quarter before the tax hike -- and fall by 3 percent in the quarter afterwards.
The Reference Shelf
Before it's here, it's on the Bloomberg Terminal.
LEARN MORE