What Wall Street Is Saying About the Delayed Tax Bill Rollout
By
Stocks rise as investors keep faith in eventual tax reductions

Eyes are on how Congress will find revenue to offset cuts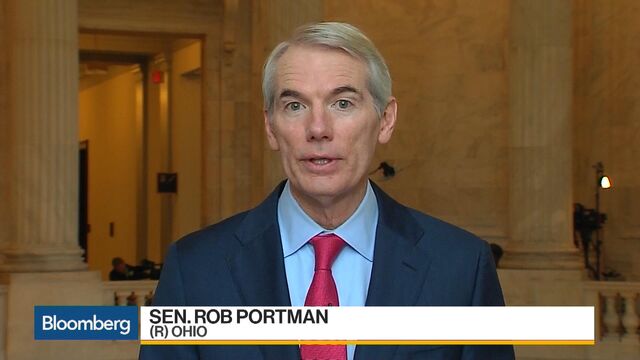 A delay in revealing the House's tax bill hasn't shaken faith that legislators will eventually succeed in passing at least some tax cuts. Wall Street analysts are keeping their better-than-50-percent odds some reductions will be passed, probably early next year, though the delay signals how tough the process will be.
At a cabinet meeting Wednesday, President Donald Trump said the House is taking a few extra hours on the tax bill and that some Democrats will back a GOP package. Stocks pared earlier gains, with the S&P 500 up 0.1 percent as of 1:06 p.m. in New York.
Height Securities, Stefanie Miller


"We continue to assign 75 percent odds, but they are now trending down, that Congress will pass a tax reform measure by the first quarter of 2018 after House Leadership announced late yesterday that they will delay the roll-out of their tax reform measure until sometime tomorrow. In our view this delay is a sign that the House does not have the tax math fully in order; the requisite revenue needed to hit the $1.5 trillion spending number likely isn't quite there yet.
"We consider the fact that the House is meaningfully trying to hit this number as a sign they are very committed to releasing a bill that looks more like something that can pass in the Senate – an incremental positive - reinforced by the news yesterday that the Senate will likely unveil their version of reform next Wednesday, November 8. In general, however, the events of the past 24 hours are a net negative in that we are already seeing fracturing in the aggressive time-line laid out by GOP leadership for completing tax reform by end of 2017."
BMO, Ian Lyngen, Aaron Kohli
"The state and local tax (SALT) deduction debate has predictably inched toward center-stage as the details of the budget show little room for maneuvering by the GOP short of ballooning the budget – which is politically a nonstarter for many of the Republican budget hawks. The elimination of the SALT deduction poses a greater risk to consumption than lawmakers currently have in focus – the Northeast would be the hardest hit and not coincidentally has among the highest per capita consumption rate (not to mention the most consumers). Even if we are willing to concede a scenario in which business investment and employment gains ultimately offset the immediate damage done to consumption on the coasts, there is an essential timing mismatch as firms are slower to deploy funds than spenders are to tighten purse/murse strings."
"House Ways and Means Chairman Kevin Brady's comments on his plan to eliminate the SALT deductions certainly didn't go unnoticed on Tuesday and while many are content to dismiss this as politics as usual, it seems most likely to be a recurring theme as Congress grapples over how to fund tax relief."
Bloomberg Intelligence, Andrew Silverman
"The House Ways and Means Committee would have been able to get a bill out on time had Trump not commented negatively on the phased-in corporate tax idea. The phase-in is standard operating procedure for tax cuts; Congress used it to enact the first round of Bush tax cuts."
"It's very likely that the Ways and Means bill will please no one when it's finally released. This is just the opening gambit in a long process that will culminate in something akin to tax reform occurring next year."
Cowen, Chris Krueger
"On taxes, everyone wants to go to heaven, no one wants to die. House GOP draft will show who robs Peter to pay Paul. Tomorrow marks the realization that tax reform equals tax raises for many, or the House plan has no details and time-frame delay continues."
"There is increasing speculation that the release may be light on details only to see a "Manager's Amendment" and more detailed text on Friday/Saturday in advance of next Monday's House Ways and Means Committee mark-up. We remain incredibly skeptical of this entire exercise and continue to see no tax bill signed into law this year or next"
Compass Point, Isaac Boltansky
"The delay is a clear negative as it underscores both the inherent difficulty and the unrealistic timing expectations."
"Finding $5.5 trillion in offsets is difficult. GOP appears disinclined to use the corporate rate phase-in structure that has been floated in recent days, although there is talk of the rate modestly ticking upward near the end of the 10-year budget window."
"The push to finalize a tax bill in 2017 remains highly unlikely, but we maintain our 65 percent odds of a tax package clearing Congress in the first half of 2018."
KBW, Brian Gardner
"The headline of the delay is a negative for financial stocks, as we see financials as winners in the tax debate and a delay, or the perception that the bill is in trouble, is a negative for the sector."
"At the same time, we do not see the delay as fatal. In our view, it is one of many bumps on the road to finishing a tax bill and is why we have been skeptical that Congress will be able to finish tax reform in 2017."
"There is some good news on taxes though. It appears that the House bill will not phase in any cuts in corporate tax rates. Because delaying a tax cut could actually hurt economic growth and limit tax receipts as taxpayers delay economic activity until rates are lowered, the idea of a delay made little sense to us."
Before it's here, it's on the Bloomberg Terminal.
LEARN MORE