Venezuela's Opposition Agrees on One Thing: Forget December's Elections
By
Major parties spurn mayoral votes after fiasco this month

While the economy bleeds out, a debate over basic principles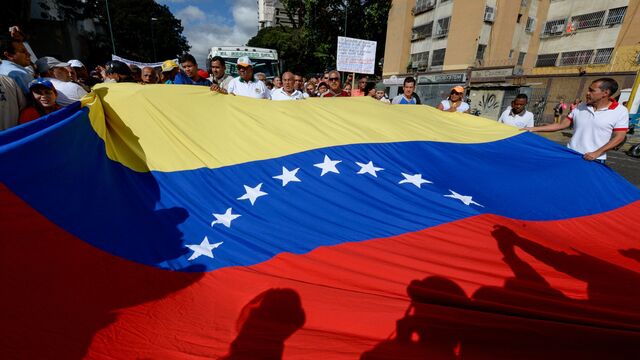 Venezuela's opposition is splintering, yet leaders of the Democratic Unity Roundtable agree on one thing: They're better off boycotting Dec. 10 municipal elections than trying to beat President Nicolas Maduro's regime at the ballot box.
As registration began this week for more than 300 mayoral races, key parties within the alliance known by the Spanish abbreviation MUD announced they would shun the votes. After widespread accusations of government fraud in gubernatorial races Oct. 15, many in the fractious coalition of a dozen parties are focusing on ensuring fair presidential elections next year rather than fighting city by city.
"The MUD came to an end on Oct. 15; it only exists on paper," said Dimitris Pantoulas, a Caracas-based political consultant. "There is no accord between its leaders, but they understand that no one is going to vote in elections."
Venezuela's democracy has devolved in tandem with its economy. Inflation is soaring toward quadruple digits as the government struggles to make good on its dues. The state oil giant PDVSA, which is the main dollar generator for the government, is struggling with its share of the burden: It paid more than $800 million in bond principal due Friday, and faces another $1.2 billion debt payment Thursday.
First Things
Rather than addressing the possibility of ruinous default, Venezuela's politicians tangle over basic questions of democracy. The opposition, which has failed to unseat Maduro with votes or street protests, finds itself debating whether elections merely provide an autocratic regime with a public-relations coup. But sacrificing mayorships could further discourage weary supporters, and the slow rise in the price of oil -- the lifeblood of the Venezuelan economy -- could further strengthen Maduro's hand.
On Monday, Justice First, the largest opposition party, announced it would boycott municipal elections. The second-largest, Democratic Action, followed suit. The powerful Popular Will party has announced it won't participate, and others are still debating.
"We want elections without blackmail, without pressure on the media, without disqualifications," National Assembly President Julio Borges and head of Justice First, said in a televised interview. "We will fight for guarantees to have a new government."
Sudden Reverse
The opposition has struggled to explain the results of the gubernatorial elections to supporters, who for months took to the streets to oppose Maduro. Despite polling that suggesting an overwhelming win, the MUD lost 18 of 23 races.
Turnout was poor, but leaders have focused on a litany of government dirty tricks that included moving polling stations at the last minute; keeping failed primary candidates on the ballots to confuse voters; and even claiming the government stuffed ballot-boxes outright.
"The government does not want us to participate in any electoral process, and that is why it creates the most difficult conditions, that are almost impossible to compensate for," Henry Ramos Allup, the head of Democratic Action, told reporters this week.
Wartime President
Maduro has warned he won't be swayed.
"Those who intend to undermine the electoral process scheduled for December must pay with full force of the law," he said in a national address Monday. "I declare myself in a constitutional and political battle."
This year, Maduro installed a legislative super-body, the constituyente, packed with loyalists to rewrite Venezuela's constitution and persecute opponents amid protests that left scores dead. Gubernatorial elections were called in part to ease tension and rebut the accusation that Venezuela is tumbling toward dictatorship.
The government stipulated that governors must submit to the constituyente or would be removed. Opposition leaders told supporters they wouldn't kowtow to an institution they deemed illegal.
Stubborn Resistance
But four governors-elect of the Democratic Action party broke ranks, saying they were sworn in before the constituyente out of fear of losing hard-fought gains. Meanwhile, the Justice First governor-elect of Zulia state refused and was removed Thursday.
Hardliners within the opposition viewed Democratic Action's decision as a betrayal.
"Humiliating yourself is not a sacrifice," Popular Will coordinator Freddy Guevara told reporters last week, announcing his party would not participate in municipal elections. "We have brothers who have died for not kneeling."
Yet sitting out votes can prove costly. In 2005, most of the opposition pulled out of parliamentary elections, resulting in a near majority for Maduro's predecessor, Hugo Chavez. The assembly then gave Chavez power to enact some of his most controversial policies, including abolishing term limits, enacting land redistribution and nationalizing large swaths of the oil industry.
Mayors are deeply involved in Venezuelans' everyday life. They issue permits for businesses, collect their own tax revenue -- and in major urban centers run health and education systems and police. The offices offer parties important capital to showcase their governance.
In recent years, opposition municipalities have been the only places were protesters could demonstrate without facing immediate reprisal. Given what's at stake, many see the opposition in a lose-lose situation by sitting out the vote.
"If you don't have elected offices and you don't have the streets, what are you left with?" said Pantoulas. "Nothing."
— With assistance by Noris Soto, and Ben Bartenstein
Before it's here, it's on the Bloomberg Terminal.
LEARN MORE