Turkey Central Bank Warns of Two-Month Inflation Blackspot
By
Inflation deceleration expected from December this year

Central bank Governor Murat Cetinkaya speaks in Istanbul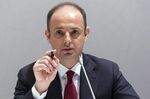 Turkey's central bank Governor Murat Cetinkaya said on Wednesday that he expects inflation to accelerate in October and November, driven by a weaker currency and rising oil prices, before the rate starts to ease a month later. The lira declined on the comments.
The central bank had revised its year-end inflation forecast to 9.8 percent from 8.7 percent three months earlier mainly due to the lira's recent decline, Cetinkaya said in Istanbul. The removal of some tax breaks in September, and a rise in the costs of energy imports will also weigh on consumer prices, he told reporters.
The governor reiterated his pledge to maintain the bank's tight monetary policy until he sees "convincing" declines in both headline and core inflation figures, which are both more than twice as high as the bank's 5 percent official target. October's inflation data is set to be released on Friday, with a Bloomberg survey showing economists expect prices to rise 11.5 percent.
Some analysts criticized Cetinkaya's expectations of the path the inflation rate will take as too optimistic, and the lira weakened on his warning that investors should be prepared for prices to deliver an unwelcome "surprise."
"What the governor's speech signaled today is policy inaction in the near term," said Inan Demir, a strategist at Nomura in London. "This leaves the lira exposed to risks stemming from higher inflation, changes in global sentiment or politically driven external financing issues."
The lira extended declines after the governor's remarks and was trading 0.8 percent lower at 3.8234 per dollar at 12:40 p.m. in Istanbul, the worst performance among 24 emerging-market currencies tracked by Bloomberg.
Final Review
Cetinkaya, speaking at the press conference where he announced the bank's last quarterly inflation report of the year, amended his forward guidance on the expected trajectory of price gains. In addition to his long-held view that both headline inflation and expectations would start a rapid recovery at the end of this year, he said that recent declines in the currency and a rise in global energy prices were creating headwinds for policy makers.
Core inflation, which strips out volatile items such as food and energy, may be slower to catch up with the general price index and hover at elevated levels for some time, the governor said. The bank will calibrate its policy framework to keep the future path of prices in line with its year-end target of 7 percent for 2018, which is 0.6 percentage point higher than his estimate in July.
While drawing next year's road map, the central bank said it assumed the removal of counter-cyclical fiscal measures which will result in weaker inflationary pressures from domestic demand. Annual credit growth, which is now around 20 percent due to state-backed expansion of commercial loans earlier this year, will also fall to levels closer to its historical average, Cetinkaya said.
The governor found support among other analysts. The expiry of tax incentives as well as other fiscal measures announced to spur economic growth will help decelerate consumer inflation from the first quarter of 2018, according to Ziraat Bank economist Bora Tamer Yilmaz.
"I expect a marked decline in inflation rates by March," Yilmaz said. "Once that happens, the current monetary policy framework -- which the bank says it will maintain -- will appear to be sufficiently tight."
— With assistance by Constantine Courcoulas
Before it's here, it's on the Bloomberg Terminal.
LEARN MORE