Tax Bill to Spark Unprecedented GOP Dissent, Meadows Says
By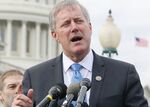 A leading House Republican conservative warned that the unveiling of the tax bill Thursday would unleash dissent "like you've never seen."
But that doesn't mean Republicans will fail, said Representative Mark Meadows, chairman of the House Freedom Caucus.
"It may be a little messy, it may not be as fun as we would all have liked to have seen it be over the past few weeks," Meadows told reporters Wednesday after meeting with Senate Majority Leader Mitch McConnell. "But we're going to get it done, and failure is not an option."
The three-dozen member caucus has been influential during the tax debate -- with some members pushing for details and commitments to a timetable as part of negotiations to support the GOP's budget.
House tax writers pushed back the reveal of their highly guarded, long awaited tax bill by a day, but have said they're on schedule to release a bill Thursday. Eleventh-hour negotiations have centered on the treatment of state and local tax deductions, among other potential tax code changes.
Meadows said he expects the bill that emerges Thursday will change significantly before it clears the House.
"To suggest at this point that tax reform is a done deal on the House side would be missing some of the subtle cues that we've indicated that there are still some negotiations to take place," he said.
Before it's here, it's on the Bloomberg Terminal.
LEARN MORE