StanChart Drops as Winters Struggles With Growth and Capital
By
Third-quarter profit and capital generation miss estimates

Lender's regulatory and restructuring costs continue to climb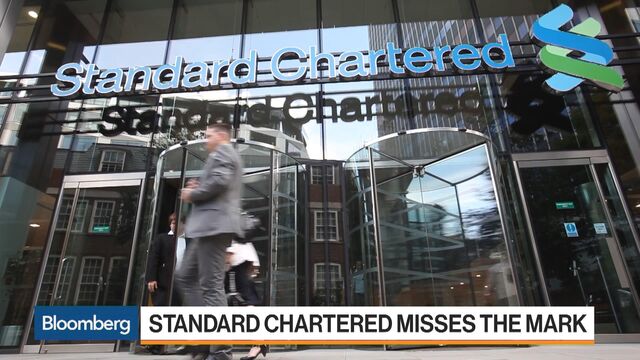 Bill Winters's struggle to restore growth and pay a dividend at Standard Chartered Plc continues.
Pretax profit at the emerging-markets focused lender missed expectations, while revenue growth failed to outpace that of expenses, which were driven by a spike in regulatory costs. Capital also fell short of estimates, hampering the bank's ability to reinstate payouts. The shares fell the most in a year.
"We know all eyes are on the income -- we are doing a lot of things to get momentum there," Chief Financial Officer Andy Halford said on a conference call with analysts on Wednesday. "The dividend issue we are well aware of, and it will get full and appropriate discussion at the end of the year."

Chief Executive Officer Winters, 56, is in his third year of trying to rebuild Standard Chartered's reputation and balance sheet after an unchecked expansion into emerging-market lending led to billions of dollars of writedowns and regulatory fines. The CEO's priority is to kick-start growth after the bank lost $5 billion of income between 2012 and 2016 as it curtailed risk-taking and closed underperforming units. The lender hasn't paid a dividend in two years.
"Economic conditions are improving slowly in our footprint, but competition is strong and geopolitical tension remains elevated," the bank cautioned in a statement. "Accelerated investments" and spending on "controls and processes" helped drive expenses 4 percent higher to $2.5 billion.
Dashed Hopes
The results "dash any hopes for a capital distribution this year," Joseph Dickerson, an analyst at Jefferies International Ltd., said in an email. "There are a series of competitive headwinds on the asset side and regulatory inflation on the capital side."
Third quarter operating income rose 4 percent to $3.6 billion from a year earlier, in line with the average estimate of five analysts surveyed by Bloomberg News. Underlying pretax profit rose 78 percent to $814 million, falling short of the $861 million average estimate.
The shares slid as much as 7.1 percent, the most since November last year, and traded 6.6 percent lower at 701.3 pence at 11:22 a.m. in London. The stock market prices the company at 40 percent less than the book value of its assets.
"The key issue for investors was to see the re-emergence of revenue growth, yet there is none," said Ian Gordon, an analyst at Investec Plc with a sell rating on the stock. "The run-rate needs to be 25 percent higher to make management's (abandoned) return on equity targets plausible."
Standard Chartered's common equity Tier 1 ratio, the key measure of capital strength, fell to 13.6 percent, 15 basis points lower than the end of June, missing the 13.9 percent average estimate of analysts.
Costs, Guernsey
Executives said regulatory costs for the full year are likely to be "slightly higher" than 2016; in the third quarter, they rose to $336 million from $278 million a year earlier. "We are pretty close to the peak" on regulatory costs, while total expenses will probably be flat on the year earlier, Halford said.
While Winters has vowed to clean up the culture of the firm after discovering senior staff flouted ethics rules, he's still plagued by allegations of misconduct. Regulators in Europe and Asia are investigating Standard Chartered over the role staff may have played in transferring $1.4 billion of private bank client assets from Guernsey to Singapore before new tax transparency rules were introduced, Bloomberg News reported last month.
"We handle a huge number of client accounts across the world and occasionally there will be issues that do come up," Halford said when asked about the Guernsey affair on a call with reporters. "We are working very very hard to put in place controls so that the frequency of that happening does reduce, hopefully, over a period of time."
Read More: Regulators Probe $1.4 Billion Indonesian Client Transfers
Weak earnings, an unfinished future regulatory regime for bank capital requirements, known in the industry as Basel IV, and new accounting standards, known as IFRS-9, have delayed the bank's progress on resuming payouts. Winters suspended the dividend in 2015 alongside a $5.1 billion capital increase from investors and a program to cut 15,000 jobs and restructure or exit $100 billion of risky assets.
Bright Spots
CEO Winters's strategy did show traction in some areas. Revenue increased in all four business divisions and income from China and north Asia, the bank's most important region, jumped 8 percent. However, that was offset by a 7 percent decline in southeast Asia, where the firm has been closing operations.
Transaction banking revenue -- the historic core of Standard Chartered -- climbed 19 percent to $856 million, driven largely by an increase in cash management, and losses on bad loans fell 42 percent.
The investment bank didn't fare so well. Income from all trading activities shrank -- encompassing currencies, rates, commodities and credit -- driving down overall financial markets revenue 9 percent to $663 million. Winters has made dozens of high-profile hires to turn around the business, including trading chief Roberto Hoornweg from hedge fund Brevan Howard Asset Management.
PE Woes
The bill to close down a loss-making internal private equity firm also continued to rise. The Principal Finance business was largely responsible for a $68 million restructuring charge in the quarter, bringing total costs from the division this year to about $147 million. That's on top of a combined of $950 million loss in 2015 and 2016, filings show.
Read More: Standard Chartered Buyout Fund Loss Shows CEO's Work Left to Do
Halford said the efforts to clean up Standard Chartered Private Equity were "moving at a slightly slower pace" and "will go well through into 2018."
— With assistance by Donal Griffin
Before it's here, it's on the Bloomberg Terminal.
LEARN MORE