Qualcomm Chip Business Stays Strong in Midst of Apple Fight
By
Demand for higher-priced phones in China helps lift chip unit

Company is still excluding Apple fees from future projections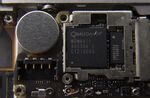 Qualcomm Inc. issued a surprisingly bullish forecast for the current quarter, showing that robust demand for the company's chips in China is making up for lost revenue from a bruising legal brawl with Apple Inc.
Sales in Qualcomm's fiscal first quarter will be $5.5 billion to $6.3 billion. Earnings per share, excluding some items, will be 85 cents to 95 cents, the San Diego-based company said in a statement. Analysts expected $5.92 billion and 91 cents a share, on average, according to data compiled by Bloomberg.
Chief Executive Officer Steve Mollenkopf is besieged by legal disputes with Apple, one of his largest customers, and government agencies around the world that threaten to undermine Qualcomm's technology licensing business, which generates most of its profit. Still, the company's chip unit, which contributes the majority of revenue, is winning market share from rivals and benefiting from demand for expensive phones in China.
"China remains strong," said Mollenkopf in a phone interview following the results. "The end market continues to grow and average selling prices - the cost of devices - is holding up very nicely."
Consumers in China, the world's biggest smartphone market, are increasingly turning to more expensive devices, which use pricier Qualcomm chips and also generate higher licensing revenue.
Qualcomm shares rose 1 percent in extended trading. Earlier, they had closed up 4.8 percent at $53.46 in regular New York trading. The shares are down about 20 percent this year and making it the worst performer on the benchmark Philadelphia Stock Exchange Semiconductor Index. Most chip stocks are up this year, leaving the index with a gain of about 40 percent.
Qualcomm has seen off an attempt by rival MediaTek Inc. to break into the high end of the mobile chip business and taken sales from the Taiwanese company in the market for cheaper phones. Qualcomm's ability to ride a wave of higher priced gadgets and chips counters the usual deflationary trend in the industry, according to Raymond James & Associates analyst Chris Caso.
"It's unprecedented in consumer electronics," he said. "It's no secret that MediaTek has had struggles this year."
Qualcomm's profit in the fiscal fourth quarter was 92 cents a share, excluding certain items. Revenue was $6 billion. Analysts had predicted adjusted earnings per share of 82 cents on revenue of $5.81 billion.
Still, the chip company posted its third consecutive annual revenue decline on Thursday and its legal woes may keep future sales under pressure. Licensing revenue in the current period will be $1.1 billion to $1.3 billion, the company said. That's a decline of as much as 39 percent from a year earlier.
Apple and regulators are challenging the way Qualcomm charges fees for patents that cover the fundamentals of modern phone systems. The company has been fined in South Korea and Taiwan, the U.S. government is accusing it of antitrust violations and the European Union is also examining its practices.
Apple and its backers want to change the way Qualcomm patent royalties are calculated. Instead of charging fees based on the price of phones, Apple wants it based on the cheaper price of modems. That component -- which connect phones to cellular networks -- usually costs about $20, while phones cost hundreds of dollars or more. To get their point across, these crucial customers are withholding payments to Qualcomm.
The company said on Thursday that it continues to exclude Apple patent fee payments from forecasts. Qualcomm also mentioned other companies, including Apple manufacturing partners, what haven't paid fees. "We expect these licensees will continue to take such actions in the future until the respective disputes are resolved, Qualcomm said. Executives had no updates to share on the cases.

The latest blow came earlier this week: Apple is designing iPhones and iPads for 2018 that don't use components from Qualcomm, according to a person familiar with the matter. If that business went away it would cut Qualcomm revenue by about 7.5 percent, Raymond James & Associates estimates.
Qualcomm is also trying to close its $47 billion purchase of NXP Semiconductors NV. The deal is facing regulatory examination in Europe and opposition from some shareholders. Activist hedge fund firm Elliott Management Corp. has argued the offer undervalues NXP. Qualcomm had aimed to close the deal by the end of 2017. NXP management has said the process may stretch into next year.
The deal is still on track but may close next year, Qualcomm's Chief Financial Officer George Davis said on Thursday. Higher-than-anticipated regulatory scrutiny has held it up, he added.
Before it's here, it's on the Bloomberg Terminal.
LEARN MORE