NYC Terror Suspect Used ISIS Instructions for His Attack
By
Uzbekistan immigrant charged with providing material support

Second Uzbek national located as a person of interest in case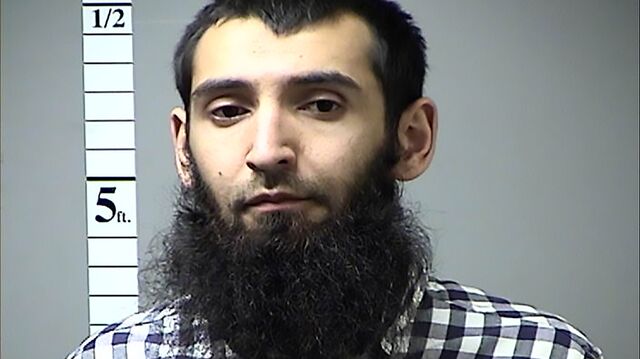 Sayfullo Saipov, the man arrested for running over and killing eight people on a bike path in Lower Manhattan on Tuesday, planned the attack for weeks and consulted instructions published by Islamic State on the Internet, police said.
"He did this in the name of ISIS," said John Miller, New York deputy police commissioner for intelligence and counter-terrorism, at a news briefing Wednesday. "He appears to have followed almost exactly to a T the instructions to their followers on how to carry out such an attack." 

Later Wednesday, federal prosecutors in Manhattan charged Saipov with providing "material support" to ISIS. The complaint said one of two cellphones contained about 90 videos with ISIS-related propaganda, including scenes of ISIS fighters depicting a beheading.
Police say Saipov, 29, was from Uzbekistan and in the U.S. for the last several years legally on a permanent visa. He lived in Tampa, Florida, before moving to Paterson, New Jersey, according to Miller.  FBI spokeswoman Kelly Langmesser said the bureau had located a second Uzbek man in New Jersey as a person of interest in the case. She said Mukhammadzoir Kadirov was not taken into custody.
On Tuesday, Saipov rented a truck at a Home Depot in Passaic, New Jersey, at 2:06 p.m. About an hour later, he barreled through a bike lane along West Street, targeting cyclists and pedestrians, before colliding with a school bus. After exiting the truck, he was shot by a patrolman and is under arrest at Bellevue Medical Center in Manhattan, police said.
The fatalities include seven men and one woman, according to police. One is from New Jersey, another is from New York, another from Belgium, and the remaining five are from Argentina.
The city's most deadly terrorist attack since Sept. 11, 2001, occurred just blocks from the World Trade Center site. It has thrown the city in a state of heightened security, with heavily armed police patrolling transit facilities, iconic buildings and crowded intersections such as Times Square. 
Items recovered from the rented truck included several knives and a note written in Arabic that said that "the Islamic state would endure forever," Miller said. Witnesses at the scene heard Saipov shout "Allahu Akbar," or "Allah is the greatest," according to police.
Saipov was stopped when patrolman Ryan Nash, 28, a five-year veteran of the department, fired his service weapon at Saipov as he darted through traffic on West Street after exiting his truck, said Police Commissioner James O'Neill. Nash and his partner were at Stuyvesant High School nearby on an unrelated call when someone reported a traffic accident.
"He thinks it's not an act of heroism; it's why he joined the police department," O'Neill said of the officer.
Police and the FBI conducted searches of Saipov's home and car through the night, and are analyzing his phone in an effort to retrace his whereabouts and contacts in the days preceding the attack.
"Obviously there's a process here," Miller said. "What were his communications? Who were they with? What was the content? What's relevant to this?"
Governor Andrew Cuomo said the attack mirrored other "lone wolf" or isolated incidents, and there was no evidence of associated plots.
The annual New York City Marathon, which runs through all five boroughs, will occur Sunday as scheduled, with an overlay of unprecedented counter-terrorism measures, including the deployment of twice as many police officers as were assigned last year, said Carlos Gomez, NYPD's chief of the department. Some 51,000 runners and 2.5 million spectators are expected, he said.
Before it's here, it's on the Bloomberg Terminal.
LEARN MORE