Mnuchin Resisting Phased-In Corporate Tax Cut Over Growth Concerns, Sources Say
By and
Treasury secretary is concerned about U.S. competitiveness

Chief House tax writer says prefers not to phase in 20% rate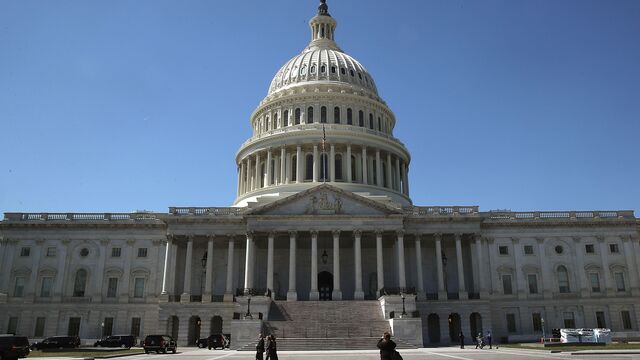 Treasury Secretary Steven Mnuchin is resisting a gradual phase in of the proposed 20 percent corporate rate out of concern the move wouldn't boost economic growth as much as he's anticipated, according to a Trump administration official and another person familiar with Mnuchin's thinking.
Mnuchin is worried that a slow reduction of the corporate rate from its current 35 percent would also make the U.S. less competitive, as other countries cut their rates faster and foreigners delay their investments in the U.S., said the official, who asked not to be named because the discussions are private.
Cutting the corporate tax rate is a key provision of the tax legislation that President Donald Trump and Republican congressional leaders plan to unveil beginning this week. On Monday, a member of the tax-writing House Ways and Means Committee told Bloomberg News that the panel was discussing phasing in that cut over five years, a schedule that would see the rate reach 20 percent in 2022. But that plan wasn't final, said the member, who asked not to be named because the discussions were private.
One concern: Cutting the rate immediately might force lawmakers to phase out the cut later under congressional budget rules -- a prospect that would also limit economic growth.
A Treasury Department spokesman didn't immediately respond to a request for comment.
Asked about the matter on Monday, Representative Kevin Brady, the committee's chairman said leaders prefer not to phase in the cut -- though he didn't rule it out. "We want to get the growth up front," he said.
'Hopefully Not'
Trump responded to the phase-in reports on Tuesday by saying: "It's something, some people have mentioned that. But hopefully not."
Representatives of conservative interest groups left a meeting with House Speaker Paul Ryan on Tuesday afternoon offering conflicting views on how quickly the 20 percent corporate rate would be achieved.
Read more: A tax bear case against phased-in cuts
Mnuchin has said the tax plan would cut the U.S. deficit by $1 trillion, by generating $2 trillion in additional revenue through economic growth.
The Treasury secretary has faced inquiries on tax overhaul efforts from officials around the world, most recently during a four-country tour of the Middle East. During a meeting in Jerusalem last week, Prime Minister Benjamin Netanyahu's first question to Mnuchin was whether the U.S. corporate tax rate would go as low as 20 percent. Mnuchin said he would try to "hold the line" on that. The next day, Israeli Finance Minister Moshe Kahlon, who Mnuchin also met with, hinted at cutting the local corporate rate, Israeli newspaper Haaretz reported. Officials in Qatar also asked about tax legislation.
Mnuchin said during his six-day trip, which concluded on Monday, he was on the phone with Brady and senators on the tax-writing committee, often while traveling on the U.S. Air Force plane or taking calls in the middle of the night.
Finding Revenue
Congressional tax writers are struggling to find enough revenue to help the tax package adhere to the 2018 budget Congress adopted this month. That budget would allow the legislation to add no more than $1.5 trillion to the federal deficit -- before accounting for any economic growth that might result.
The notion of phasing in the corporate rate cut has emerged in the context of that discussion -- as have other potential ways to adjust costs or boost revenue.
House tax writers pushed back the reveal of their highly guarded, long awaited tax bill by a day, a sign that disputes among Republican lawmakers are threatening their effort to pass comprehensive legislation by Thanksgiving.
Before it's here, it's on the Bloomberg Terminal.
LEARN MORE