Manafort Gave Banks Wildly Varying Estimates of His Wealth
By
Prosecutors say he traveled with phone registered to an alias

Manafort, Gates expected to seek reduction in bail packages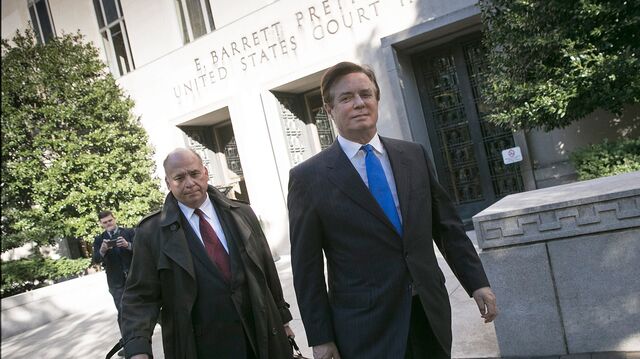 When Paul Manafort wanted to borrow money in the past five years he gave lenders wildly varying estimates of his wealth, ranging from $19 million to $136 million, according to Special Counsel Robert Mueller.
Mueller's prosecutors released more personal details Tuesday about Manafort, Donald Trump's former campaign chairman, who is accused of hiding his work as an agent of Ukraine, laundering millions of dollars, and concealing foreign accounts. Manafort's right-hand man, Rick Gates, faces the same charges.
Both men were indicted on Oct. 27 and pleaded not guilty on Oct. 30, after their case was unsealed. Prosecutors said they fear the two men may flee before their trial. Manafort faces as many as 15 1/2 years in prison if convicted, while Gates faces up to 12 1/2 years, the U.S. said. Defense lawyers argue that the men have no intention to flee.
"The seriousness of the charges, and penalties that the defendants face, along with their extensive international connections and financial resources, establish that they pose a serious risk of flight," prosecutors wrote in the filing.
They said Manafort's financial holdings are "substantial, if difficult to quantify precisely because of his varying representations." He has "represented the value of his assets on loan applications and other financial documents in divergent amounts, which suggests considerable resources, the full extent of which is unclear."
Prosecutors also cited Manafort's widespread travels, saying he applied for 10 passports in 10 years and went to Mexico, China and Ecuador this year with a phone and an email registered to an alias. In the past year, Manafort has traveled to Dubai, Cancun, Panama City, Havana, Shanghai, Madrid, Tokyo and Grand Cayman Island, the U.S. said.
Gates also traveled widely, visiting Paris, London and Frankfurt before 2015, while going with Manafort to Cyprus, prosecutors said.
"Extensive travel of this nature further evidences a risk of flight," prosecutors wrote.
When they appeared in court on Oct. 30, Manafort's bail was set at $10 million and Gates's was put at $5 million. Both are under house arrest. At a hearing on Thursday, they are expected to seek a bail reduction.
Your Guide to Understanding the Trump-Russia Saga: QuickTake Q&A
Gates, who worked overseas with Manafort for a decade and also joined the Trump campaign, sought a line of credit last year, saying he was worth $30 million, prosecutors said. But a month later, in a home loan application, he listed his total assets as $2.6 million.
Prosecutors said Manafort and Gates used a complex scheme to funnel millions of dollars into the U.S. through "various entities and accounts in Cyprus, Grenadines, Seychelles and England." Their money passed through a series of foreign accounts, the U.S. said.
Both men worked in the firms Davis Manafort Partners Inc. and DMP International LLC. Along with an unidentified Russian national who was a longtime employee, they served as beneficial owners and signatories on the accounts, prosecutors said. 
Gates also opened 55 accounts with 13 financial institutions from December 2004 to January 2017, according to the filing. At least 30 of those accounts remained open in the last six months, the U.S. said.
Prosecutors accuse the men of failing to register under the Foreign Agents Registration Act while working as political consultants for the Ukrainian government; laundering money through a web of accounts; lying to the Justice Department about their FARA requirements; and failing to tell the Treasury Department about the offshore accounts.
The filing included a 37-page, Oct. 2 opinion from U.S. District Judge Beryl Howell that ordered a former lawyer for the men to testify to a grand jury about her communications with FARA lawyers at the Justice Department.
The case is U.S. v. Manafort, 17-cr-201, U.S. District Court, District of Columbia (Washington).
Before it's here, it's on the Bloomberg Terminal.
LEARN MORE