Liberia Court Halts Presidential Election Run-Off to Hear Fraud Charges
By
Supreme Court to consider vote irregularities complaint

Ruling party accuses president of interfering in election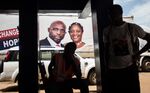 Liberia's Supreme Court halted next week's presidential run-off vote to hear a challenge brought by a first-round losing candidate that the election was marred by fraud.
The court issued a stay order for the Nov. 7 poll and will consider the complaint filed by the Liberty Party on Thursday, according to a writ issued on Wednesday. The Liberty Party lodged the objection and called for a rerun after its candidate, Charles Brumskine, was eliminated after winning 9.6 percent of the ballots cast in the Oct. 10 vote.
Liberia's soccer star turned politician, George Weah, from the Congress for Democratic Change, won 38.4 percent of the first-round votes while Vice President Joseph Boakai, the ruling United Party candidate, came second with 28.8 percent. They were due to face each other in the runoff after neither candidate secured the majority needed for an outright win.
The United Party said on Sunday it will support Brumskine's application and accused President Ellen Johnson Sirleaf of interfering in the vote to decide her successor. Fraud and irregularities were widespread during the vote, while Johnson Sirleaf intimidated election officials, the parties said in a statement that was supported by a third candidate.
Solid Evidence
Johnson Sirleaf, who didn't endorse or campaign on Boakai's behalf in the run-up to the election, said the accusations were tantamount to hate speech and incited violence.
"Our case is built on solid evidence, and makes clear that the stated election results do not accurately reflect the will of the people," Benjamin Sanvee, chairman of the Liberty Party, said by email. "The growing consensus that serious fraud and irregularities occurred is making that fact harder and harder to ignore."
Presidential candidates met with Johnson Sirleaf and leaders of the Economic Community of West African States and African Union in Monrovia, the capital, on Wednesday. All parties agreed to respect the legal process and will ask their supporters to remain calm, Guinean President and African Union Chairman Alpha Conde told reporters after the meeting.
"They all agreed to support the constitution of Liberia," Conde said. They have "committed themselves that there will be no bloodshedding."
Before it's here, it's on the Bloomberg Terminal.
LEARN MORE