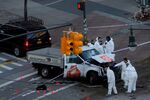 NYC attack: The New York Times maps the "trail of terror" of the truck attack that killed eight victims and injured 11 others along a bike path in Lower Manhattan yesterday. Here's what we know:
The attack, occurring blocks away from the World Trade Center, is the deadliest New York City has seen since 9/11. Its perpetrator was identified as 29-year-old Sayfullo Saipov, an Uzbekistan native who moved to the U.S. in 2010 and most recently worked for Uber in New Jersey. (CNN)  

New York City Mayor Bill de Blasio condemned the attack as "a particularly cowardly act of terror aimed at innocent civilians" but he and New York Gov. Andrew Cuomo said no further threat was detected. (Gothamist)

Some Muslim Americans and community leaders are bracing for backlash, expressing concerns over how their religion will be perceived and whether Muslims will become targets for violence. (NBC News)
Obama's civic fix: Calling on his own roots as a community organizer in Chicago, former President Barack Obama kicked off the inaugural summit of the Obama Foundation in that city yesterday with an emphasis on fixing "civic culture" and nurturing up-and-coming leaders. (Politico)
Grasping for GE: Before General Electric decided to relocate its long-established Connecticut headquarters to Boston, state officials in Connecticut tried offering several incentives to fend off the move, including buying GE's suburban campus and relocating the company to a more urban area like Stamford. (Associated Press)
Commute mapping: Designed as a niche social network for athletes, the Strava app found a new market with users tracking commutes by bike or foot—and beyond that, cities and states wanting access to that data. Enter "Strava Metro," whose heat-mapping tech is now in use with 125 local agencies. (Fast Co.Design)
"Best places"? Slate takes aim at the imperfect and arbitrary measures that create wild variation among "Best Places to Live" rankings, which recently have narrowed down on such unlikely winners as Fishers, Indiana, and Rochester, Minnesota.
The urban lens:
Share your city on Instagram using #citylabontheground.