Hollywood Dazzle Lured Investor to Doomed Software Startup
By
Jailed hedge fund founder testifies in KIT Digital fraud trial

Harvey Weinstein reference in testimony 'dismays' judge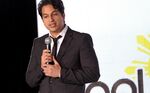 Jailed hedge fund founder Stephen Maiden told jurors he was dazzled by technology entrepreneur Omar Amanat's business skills and Hollywood ties when he agreed in 2008 to a doomed investment in a software startup.
Amanat, a stylish socialite who helped produce some of the "Twilight" films, was pitching shares in the video-software firm KIT Digital Inc. Maiden, a Duke University graduate whose fund had $12 million under management, was looking for sure bets during the brewing financial crisis.
The men met through Sohail Khalid, the founder of Saxon Group and Amanat's roommate at University of Pennsylvania's Wharton School, Maiden testified Wednesday in federal court in Manhattan. Khalid, who'd invested $2 million in Maiden's fund, had suggested Maiden contact Amanat for advice.
In an introductory phone call that summer, Amanat bragged about partying with Hollywood stars Angelina Jolie and Brad Pitt, having lunch with former movie producer Harvey Weinstein and selling a trading platform -- Tradescape -- for $100 million, Maiden said.
"He seemed successful," Maiden, wearing tan prison garb, told the jury. "He created a company from scratch and sold it for a lot of money, and now he was rubbing shoulders with a lot of people in Hollywood."
Investment Decision
Maiden's decision to invest $1 million in KIT and another $2 million in Enable Invest Ltd., a fund run by Amanat's brother in Dubai, would ultimately lead to the collapse of Maiden's Maiden Capital LLC, the founding of which he called his "lifelong dream," and a seven-year sentence for securities fraud.
Maiden is the government's star witness in the fraud trial of Amanat and former KIT Chief Executive Officer Kaleil Isaza Tuzman, who are accused of conspiring with Maiden to manipulate KIT's stock and hide its failing finances. The investment started going badly as Enable began bleeding money on a series of disastrous trades, including cash invested by both KIT and Maiden, the U.S. says. Enable didn't let Maiden in on that fact right away.
"I am happy to say we have been making good profits, even with the currency volatility and market meltdown," Amanat's brother, Irfan Amanat, wrote in an email to Maiden, which was displayed on screens for the jury. "Trading has been smooth and profitable."
Maiden testified that as the financial reality became clearer, he met Amanat in person for the first time at a celebrity auction in late 2008. He said he watched in amazement as Amanat bid $250,000 for a weekend on Richard Branson's private island, despite Amanat's apparent cash-flow problems. Someone else got the winning bid, Maiden said.
Share Buying
To keep KIT afloat -- and by extension keep Enable and Maiden Capital from going under -- Maiden testified that he struck a deal with Amanat and Tuzman to buy thousands of KIT shares on a regular basis for months. Maiden said he sometimes paid more for the shares that he needed to, just to create the illusion of demand. The agreement was only intended to last for 90 days, until KIT could be acquired by another company, according to Maiden.
"The point was for me to prop up the stock," Maiden said. "There was aggressive selling of KIT Digital day after day and I was just sitting there sucking it up" and "trying to fool people into believing there was demand."
Maiden testified he learned shortly thereafter that he couldn't redeem his money from Enable, meaning his own customers at Maiden were unable to get their redemptions. Maiden said he called Amanat in a state of panic.
"I was flipping out," Maiden said. "I told him this is a matter of life or death. This is ridiculous. I need the money to operate my fund."
Maiden and Enable both collapsed. KIT went bankrupt in 2013. Maiden in 2015 pleaded guilty to securities fraud and was sentenced for what amounted to an $8.9 million Ponzi scheme. Amanat and Tuzman were charged later. Both maintain their innocence. Irfan Amanat also was charged and will be tried separately. 
Name Drop
Perhaps the biggest dispute between lawyers Wednesday was triggered by a Hollywood name-drop. Amanat's attorney Randall Jackson objected to Maiden's reference to Weinstein, who's been accused of sexual assault and ousted from his company. The judge struck the reference from the record.
"I was dismayed to have Harvey Weinstein's name injected into the proceedings," said U.S. District Judge Paul Gardephe.
Jackson also complained that the government was portraying Maiden as a victim of the fraud, claiming he ultimately became a willing participant in the scheme.
"Maiden is not a victim of any of the charged conspiracies," Amanat's attorney told the judge after jurors were dismissed.
The case is U.S. v. Amanat, 15-cr-536, U.S. District Court, Southern District of New York (Manhattan).
Before it's here, it's on the Bloomberg Terminal.
LEARN MORE