Here's What You Need to Know About Powell's Fed Chair Selection
By
Powell has backed FOMC's rate hikes and represents continuity

Governor open to reform that lessens burden of financial rules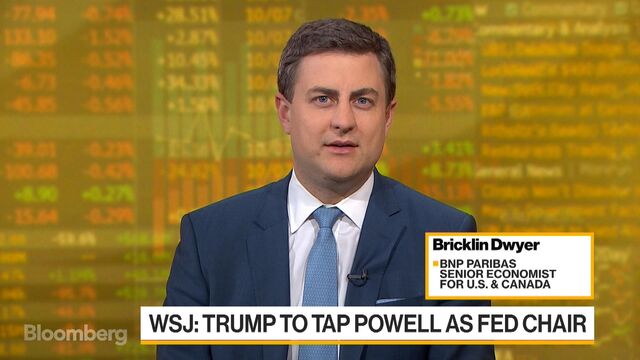 Here's what you need to know about Jerome Powell, who's President Donald Trump's pick to replace Janet Yellen as Federal Reserve chairman, according to three people familiar with the decision. A formal announcement is due Thursday.
What to Expect
Steady as she goes. Powell, 64, who joined the Fed Board of Governors in 2012, has publicly backed the central bank's plan of gradually raising interest rates. His term is likely to represent continuity with Yellen, though Trump could still potentially tilt the Fed in a more hawkish direction with other appointments to the board.
Powell is rated as neutral on monetary policy by the Bloomberg Intelligence Fed Spectrometer, compared to Yellen as somewhat dovish. He's never dissented as a governor, though no board member has done so since 2005. A survey of 30 economists in March found he was slightly more dovish than average Fed central bankers.
In an Aug. 25 interview with CNBC television, Powell presaged subsequent comments by Yellen that the softness in inflation this year was a "mystery" and said the low price readings allowed the Fed to be patient in raising interest rates.
"If the economy performs about as expected, I would view it as appropriate to continue to gradually raise rates," Powell said in a speech in June. "Inflation has been below target for five years and has moved up only slowly toward 2 percent, which argues for continued patience, especially if that progress slows or stalls."
Balance Sheet
Remaining on autopilot. Powell has endorsed the FOMC plan to gradually shrink the $4.5 trillion balance sheet, calling it "appropriate." Market reactions to the plan "augur well for an orderly phaseout of reinvestments," he said in June.
Powell had privately voiced skepticism of the third round of quantitative easing launched in 2012, but ended up voting for the initiative championed by then-Chairman Ben S. Bernanke.
Regulatory Views
Powell has been largely supportive of Dodd-Frank reforms following the 2007-2009 recession, while open to reform that lessens the burden on financial firms.
In October, he said "there's a lot of room to address the burden" the Volcker Rule imposes on firms that aren't in proprietary trading. While he wants to preserve gains from post-crisis reforms, "We can do it more efficiently. That's the process we are actively engaged in right now."
Why Trump Picked Him
Powell's support for gradual interest-rate hikes -- which have helped support stock-market gains repeatedly cited by Trump this year -- as well as his bent toward easier regulation may have provided a good fit with the president's views. 
In addition, Treasury Secretary Steven Mnuchin favored Powell, Politico has reported. "Powell has Republican credentials, knows the board and FOMC well" and "has impressed with his grasp of monetary economics," Deutsche Bank Chief Economist Peter Hooper wrote in a report.
"Powell has established a reputation as a centrist on the monetary policy spectrum," said Michelle Meyer, head of U.S. economics at Bank of America Corp.'s investment-banking division. "Powell is a pragmatist when it comes to regulation."
Confirmation Outlook
Fairly smooth sailing. Powell -- a Republican appointed to the Fed by Democratic President Barack Obama -- has earned a reputation there as a non-ideological and pragmatic policy maker. He's likely to get support from both parties.
Powell won Senate confirmation as a Fed governor first in 2012 in a 74-21 vote, and again in 2014 by 67-24 for a full 14-year term.
Quick Bio
A lawyer by training, Powell spearheaded the Fed's response to the 2014 flash crash in Treasury debt and the overhaul of the flawed London Interbank Offered Rate benchmark. He's also been the point person at the Board of Governors for handling such unglamorous-yet-essential duties as oversight of the financial payments system.
Powell, who goes by Jay, served at the Treasury Department under President George H. W. Bush, eventually ending up as undersecretary for domestic finance.
A multi-millionaire -- his 2016 financial disclosure form listed assets of as much as $55 million -- he spent much of his time outside the government working in the financial industry, first at investment bank Dillon Read & Co. and later at Carlyle Group, where he set up the private-equity firm's industrial group.
Quotes from this Article
Before it's here, it's on the Bloomberg Terminal.
LEARN MORE