Funko's IPO Bets on Star Wars-Loving, Bobble-Head Buyers
By and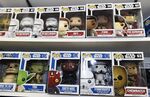 In Funko Inc.'s pitch to investors considering its $213 million initial public offering, the toymaker plays up how quickly it can make bobble heads and other tchotchkes inspired by fad culture -- "Star Wars" heroes, "Game of Thrones" villains, pro athletes, you name it.
In the realm of toy stocks, selling collectibles tied to the latest box-office hits and kid obsessions reigns supreme. Hasbro Inc., with the main toy licenses for Marvel comics, "Star Wars," the movie "Frozen" and Disney princesses, ranks among the most highly valued on a price-to-sales basis. Canada's Spin Master Corp., whose animatronic Hatchimal toy struck a crazed chord with children, tops even Hasbro among four of the biggest toymakers. Jakks Pacific Inc. and Mattel Inc., lacking such au courant chart toppers, haven't fared as well.

Before it's here, it's on the Bloomberg Terminal.
LEARN MORE